The Rosa Parks Story
(2002)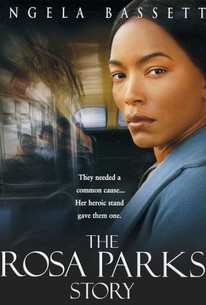 AUDIENCE SCORE
Critic Consensus: No consensus yet.
The Rosa Parks Story Videos
The Rosa Parks Story Photos
Movie Info
Angela Bassett plays the title role in this meticulously detailed biography of pioneering civil rights activist Rosa McCauley Parks. Even as a child, Rosa stands separate from her fellow African-Americans; instead of being shipped off to a shabby public school, she is enrolled in a private classroom run by Quakers, who encourage the girl to transcend the severe limitations of legalized segregation in her home state of Alabama. In her late teens, Rosa marries barber Raymond Parks (Peter Francis James), a politically savvy and outspoken proponent of equal rights for all. For many years suffering in silence as the iniquities of the South's Jim Crow laws consign her to second-class-citizen status, Rosa finally joins the local branch of the NAACP with the encouragement of her childhood friend Rebecca "Johnnie" Carr (Tonea Stewart) -- much to the dismay of husband Raymond, who feels that the organization is ineffective in its ongoing battle against the white power structure. Rosa's personal struggle against institutionalized racism reaches its zenith on the night of December 1, 1955, when, bone-weary after a long day's work as a seamstress at a Montgomery department store, she refuses to give up her seat on a bus to a white man -- and is promptly arrested. Thus are the wheels set in motion for the first major Civil Rights demonstration of the 1950s, with Rosa rising to heroic status in the eyes of her people, an event that also profoundly alters the life of local religious leader Martin Luther King Jr. (played by the Reverend's son, Dexter Scott King). Mostly filmed on location in Alabama, The Rosa Parks Story features Cicely Tyson as Rosa's strong-willed mother Leona and Mrs. Parks' longtime friend Rebecca Daniels Carr in a cameo role. The film was shown as part of CBS' celebration of Black History Month on February 24, 2002.
Critic Reviews for The Rosa Parks Story
There are no critic reviews yet for The Rosa Parks Story. Keep checking Rotten Tomatoes for updates!
Audience Reviews for The Rosa Parks Story
Angela Bassett gives a strong performance as Rosa Parks and I learned a thing or two. But the film itself is pretty amateurish and riddled with "you can do anything if you set your mind to it" cliches.
Dan Rosson
Angela Bassett is one of the best actresses ever. Rosa Parks was a consultant in this movie and her story is a wonderful one. The movie was not 100% faithful to the story but it was still a really good one.
Bruno Lot
very moving and inspirational a story for many generations to follow Angela Bassette really captured the essence of Rosa Parks
Antwan J. Jones
The Rosa Parks Story Quotes
There are no approved quotes yet for this movie.
Discussion Forum
Discuss The Rosa Parks Story on our Movie forum!