The Rosary Murders
(1987)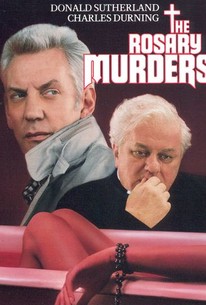 AUDIENCE SCORE
Critic Consensus: No consensus yet.
The Rosary Murders Videos
The Rosary Murders Photos
Movie Info
A priest is conflicted following a string of murders which target fellow priests and nuns in this dark mystery drama. After a black rosary is found at the scene on the body of those who have been murdered, Father Robert Koesler (Donald Sutherland) hears a confession for the crimes from the other end of a partition. This presents a moral quandary for Father Koesler: does he remain silent after being forced to absolve a killer for his heinous sins, or does he turn his back on his sworn duty as a priest and reveal what he knows about the killer to the authorities? Directed by Fred Walton, from source material written by William X. Kienzie and adapted by Walton and Elmore Leonard, the film co-stars Charles Durning and Josef Sommer.
Rating:
R (adult situations/language, nudity, violence)
Genre:
, ,
Directed By:
Written By:
In Theaters:
On DVD:
Runtime:
Studio:
Virgin Vision
Critic Reviews for The Rosary Murders
Audience Reviews for The Rosary Murders
Compelling with deep thoughts, a slow paced murder drama. No gore or special effects. The tension builds with every moment and while the number of killings is not very credible, the story can be. SEE the trailer here: http://www.youtube.com/watch?v=f93MqOpYf_0 The bodies start piling up when a serial killer feels revenge is in order for Catholic priests and nuns who he believes led his daughter to her suicide. The police get caught in the middle as they too become victims. [img]http://upload.wikimedia.org/wikipedia/en/thumb/b/b9/Rosary_murders_poster.jpg/220px-Rosary_murders_poster.jpg[/img] The soundtrack is full of chants and sounds reminicent of The Exorcist, but aside from this and other religious trappings, the film is pretty interesting and gripping. Donald Sutherland is, of course, excellent as the troubled priest who is not allowed to go to the police. He decides to seek out the killer himself. Eventually, the killer instead seeks him. [img]http://ts3.mm.bing.net/images/thumbnail.aspx?q=5037644943262406&id=48d8242912e5ddaa309e809571be40d8&url=http%3a%2f%2fxfinitytv.comcast.net%2fapi%2fentity%2fthumbnail%2fMovie-21933%2f640%2f320[/img] Reviews: 1 Explores the dark connection between guilt, sex, and Catholicism. NOTES: The Rosary Murders is a 1987 neo-noir mystery film starring Donald Sutherland as Father Koesler, based upon the novel by William X. Kienzle. [img]http://ts1.mm.bing.net/images/thumbnail.aspx?q=4876265838871320&id=ccb9a58ccb90e7269e40ce53f1532224&url=http%3a%2f%2fwww.moviesplanet.com%2fupload%2fmovies%2f20727%2fpictures%2f3_thumb.jpg[/img] Main cast Donald Sutherland - Father Bob Koesler Charles Durning - Father Ted Nabors Josef Sommer - Lt. Walt Kosnicki Belinda Bauer - Pat Lennon James Murtaugh - Javison Addison Powell - Father Killeen Anita Barone - Irene Jimenez Tom Mardirosian - Detective Fallon Jihmi Kennedy Mark Margolis Rex Everhart [img]http://ts3.mm.bing.net/images/thumbnail.aspx?q=5042579859179490&id=37c95c8724a151c4d776a27088e0ac25&url=http%3a%2f%2fmedia.jinni.com%2fmovie%2fthe-rosary-murders%2fthe-rosary-murders-1.jpeg[/img] Directed by Fred Walton Produced by Robert G. Laurel Written by William X. Kienzle Elmore Leonard Fred Walton Music by Bobby Laurel Don Sebesky Cinematography David Golia Editing by Sam Vitale Distributed by New Line Cinema Release date(s) August 28, 1987 Running time 105 minutes [img]http://ts1.mm.bing.net/images/thumbnail.aspx?q=4562153407971512&id=dc2160b0160a75fa9c8c7c5c298c3527&url=http%3a%2f%2fodeondirect.co.uk%2fodeon%2fimages%2fproducts%2f3%2f40983-large.jpg[/img]
monsieur rick
With her father... A priest is put in a compromising situation when a murder confesses that he has been killing priests and nurses because they are responsible for the death of his daughter. How could the church be responsible for the death of a child? The priest will do some digging on the murders and how they are tied into the deceased little girl. "The neighborhood is not very safe." Fred Walton, director of When a Stranger Calls (1979), April Fool's Day, Dead Air, The Courtyard, The Stepford Husbands, and Homewrecker, delivers The Rosary Murders. The storyline for this picture is very interesting with a couple fascinating twists and turns. The action sequences are well presented and the soundtrack fits the movie perfectly. The cast delivers solid performances and includes Donald Sutherland, Charles Durning, and Roger Angelini. "She had completely changed." I was reading a book that referenced an old movie with Donald Sutherland where he dies on the steps of a church. I thought this may be the film but I was incorrect. I'll keep searching. I did think this was a clever movie with some interesting sequences that made it worth watching. I recommend seeing this film if you're a fan of the genre (criminal dramas). "You're saving souls not lives." Grade: B
Kevin Robbins
A little dated, but a watchable film, however if you're looking for gore, there's none to see
Lady D'arbanville
Super Reviewer
The Rosary Murders Quotes
| | |
| --- | --- |
| Father Ted Nabors: | We're saving souls, not lives. |
| | |
| --- | --- |
| Father Bob Koesler: | Say five Our Fathers and five Hail Mary's. If it'll help, say the rosary [after hearing a distressed friend's confession]. |
| Father Bob Koesler: | Say five Our Fathers and five Hail Mary's. If it'll help, say the rosary. [after hearing a distressed friend's confession] |