Rose Marie
(1936)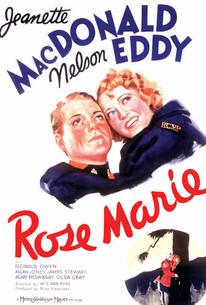 AUDIENCE SCORE
Critic Consensus: No consensus yet.
Movie Info
It was standard operating procedure at MGM to cast their favorite singing team of Nelson Eddy and Jeanette MacDonald in new versions of old operettas, then retain only the music, drastically altering the plotlines to conform to popular tastes. This was the treatment afforded the Rudolf Friml-Herbert Stothart-Oscar Hammerstein-Otto Harbach musical Rose Marie--and thank heaven that MGM decided to jettison the original's creaky libretto about a woman who offers her body to the villain to save the hero from a trumped-up murder charge (this chestnut seemed old-fashioned even in 1928, when Joan Crawford starred in the silent version). In lieu of this wearisome storyline, the Eddy-MacDonald version casts MacDonald as a spoiled, temperamental Canadian opera star who learns that her uncontrollable brother (James Stewart), serving a prison sentence, has escaped to a cabin in the North Woods and needs someone to tend his wounds. MacDonald travels to northern Canada incognito, where in a hilarious sequence she tries and fails to pass muster as a dance-hall girl. Upon meeting likeable mountie Nelson Eddy, who unbeknownst to her has been assigned to locate her brother, MacDonald fabricates a story about needing an escort for a rendezvous with her lover. Such latter-day parodies as Dudley Do-Right notwithstanding, the Eddy-MacDonald sequences are often deliberately played for laughs, even when Nelson is uttering such lines as "Heavy? Why, I could carry you for hours!" Gradually, Nelson and MacDonald fall in love, only to fall out of love when Nelson tracks down and captures MacDonald's brother. Despite this rift, a happy--and logical--ending is not long in coming. It might be hard to watch such Eddy-MacDonald duets as "Rose Marie" and "Indian Love Call" with a completely straight face; it is reassuring, however, to find out that the filmmakers knew that "Rose Marie" was ripe for ridicule, and decided to laugh at themselves first in order to disarm the audience. To avoid confusion with the 1955 remake, the 1936 Rose Marie was retitled Indian Love Call for TV showings.
Critic Reviews for Rose Marie
All Critics (4) | Fresh (3) | Rotten (1)
the movie is primarily for fans of the source material or the stars
Charming version of the operetta. Perfect of its type.

Mountain Xpress (Asheville, NC)
Audience Reviews for Rose Marie
½
You don't have to be in love with me. I'll marry you anyway. An opera singer discovers her brother is lost in the wilderness and is on a mission to find him. While searching she encounters a Canadian mountie that teaches her the ways of the wild. They quickly fall in love while also trying to accomplish their goal of finding the lost brother. "When he hears that you'll probably spend the rest of your life in jail." W.S. Van Dyke, director of The Thin Man, After the Thin Man, Tarzan the Ape Man, Another Thin Man, Sweethearts, Marie Antoinette, and Forsaking All Others, delivers Rose-Marie. The storyline for this picture is just okay and fairly straightforward with some cool woodsy settings. The acting was just okay and the cast includes Jeanette MacDonald, Nelson Eddy, James Stewart, Gilda Gray, and Allan Jones. "Are you out of your mind?" I came across this movie on the schedule of Turner Classic Movies (TCM) and had to DVR it since it had James Stewart in the cast. This was fairly good and not a waste of time, but this didn't have enough unique elements to recommend or standout in the genre. "Don't ever think of nature as charitable." Grade: C
Kevin Robbins
½
Perhaps the singing duo's most iconic film - they sing "Indian Love Call" - is a little talky and very melodramatic. Eddy also sings "The Mounties" and the title tune, James Stewart has a supporting role and the scenery is beautiful.
Michael Troudt
Good premise, just don't care for the plodding way the plot develops. The movie was done this way to make room for the singing, problem is it feels like a movie with operatic singing thrown in - not a musical. Stewart is a breath of fresh air, just a shame he didn't get more screen time.
Christopher Bergan
Rose Marie Quotes
There are no approved quotes yet for this movie.
Discussion Forum
Discuss Rose Marie on our Movie forum!