Rosencrantz and Guildenstern Are Undead
(2010)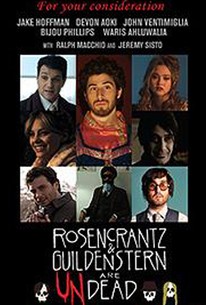 Rosencrantz and Guildenstern Are Undead Videos
Rosencrantz and Guildenstern Are Undead Photos
Movie Info
Living in the back room of his father's doctors office, broke, frustrated ladies man Julian (Jake Hoffman)scores his big break when he lands the job directing an off Broadway version of Hamlet. Except it's a bizarre adaptation written by a pale Romanian impresario named Theo(John Ventimiglia) who is actually a master vampire! Theo hopes to lure the real Hamlet (Kris Lemche) out of hiding so the two can end a centuries long feud over Shakespeare's Ophelia. Meanwhile, Julian pines for his ex-girlfriend, Anna (Devon Aoki) who is dating a Mobster Bobby Bianchi (Ralph Macchio) intent on creating the next great invention - "Whack a Germ". Added into the mix is a dimwitted Detective (Jeremy Sisto), the Holy Grail, the Rosicrucian Society, a bunch of Sexy Vamps, God and a score by Sean Lennon and you've got the perfect mix of Buffy the Vampire Slayer, Terry Gilliam, Dude Where's My Car and Woody Allen all in one fantastic film! -- (C) Indican
Rating:
NR
Genre:
,
Directed By:
Written By:
In Theaters:
On DVD:
Box Office:
$70,563.00
Runtime:
Studio:
Critic Reviews for Rosencrantz and Guildenstern Are Undead
Audience Reviews for Rosencrantz and Guildenstern Are Undead
A vampire hires a low-rent director to direct a version of Hamlet involving vampires and the Holy Grail. Aside from being frightfully dull, uneven, and genuinely unfunny, this film suffers from the construction of the main character, played by Jake Hoffman, who is so disaffected that it is almost impossible to sympathize with him. And the love story is poorly developed; what the connection between these two is or how they resolve their conflicts remains a mystery. The story attempts to be a satire - I think - of off-off-Broadway, avant garde theater. The film contends that anything will fly in these venues, and that's true to some degree, but there's nothing funny about this thesis, and it's not presented in an original way. Shadow of the Vampire was far scarier and clearer in its barbs. Overall, this film is a boring, unfunny chore to watch.
Jim Hunter
Super Reviewer
½
While not without its moments, Rosencrantz and Guildenstern Are Undead is still an uninspired piece of filmmaking with poor acting, an unfunny script, and rather sketchy editing that makes it hard to follow. RAGAU is a movie within a movie. The actual movie stars Julian (Jake Hoffman), a slacker lothario is hired to direct an off-beat version of Shakespeare's "Hamlet". Julian brings in his friends Vince and Anna to play Hamlet and Ophelia respectively. Soon, Vince becomes suspicious of the actor Theo, and learns that he and some of the other actors are vampires, who plan to slowly turn every actor into a vampire to grasp the realism. So Vince begins to take precautions and tries to warn Julian and Anna before it's too late. The acting is painfully bad with many times the actors and actresses appearing bored with the film. Our main character is uninteresting and has no interesting traits that make us care about him. The plot is unfortunately boring as hell and can't choose whether it's a comedy or a horror film and ends up failing on every level. I should also note that this is the first film in quite a while that I didn't watch all the way through. Yes, every film I reviewed I've watched all the way through. I finished films far worse than this, yet I stopped half way through. It was just so boring and uninteresting with too much language and too much TNA. The only good thing I can say about this film is the soundtrack, though it seems like it's trying to run the film off the tracks. So if you like odd indie films, you'll like this. Others, turn away. (Real rating: 33%)
Catherine Sumida
This movie is ridiculous and silly and campy and over-the-top, and I loved every minute of it. It would never have worked at all without Jake Hoffman as the film's straight man, who reacts to everything with a cynical, apathetic detachment that somehow never gets too self-aware, even when the movie itself heads that direction. Some of the jokes ran a little long and the ending wasn't completely satisfying, but I found myself giggling several times and thoroughly enjoying the ride. Very entertaining.
Hannah Megill
Rosencrantz and Guildenstern Are Undead Quotes
There are no approved quotes yet for this movie.
Discussion Forum
Discuss Rosencrantz and Guildenstern Are Undead on our Movie forum!