Rosenstrasse
(2004)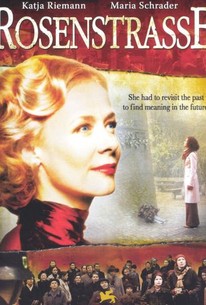 Movie Info
After the death of her father, Hannah becomes concerned with the strange behavior of her mother. As her mother's troubled childhood is revealed, Hannah realizes how little she ever knew.
Rating:
PG-13 (for mature thematic material, some violence and brief drug content)
Genre:
,
Directed By:
Written By:
In Theaters:
On DVD:
Box Office:
$277,843.00
Runtime:
Studio:
Critic Reviews for Rosenstrasse
Audience Reviews for Rosenstrasse
½
Margarethe von Trotta's cinematic account of the Rosenstrasse protests of 1943 perhaps has too many threads to be tied up simply, but history and recollection can be a bit complicated. Katya Riemann stars as Lena von Eschenbach, the daughter of an aristocratic German (Aryan) family, who falls in love with and marries a talented Jewish musician, Fabian Fischer (Martin Feifel), who because of his "mixed marriage" to an Aryan woman has not been rounded up for deportation with the other Jews of the city, and instead is given a job in a munitions factory. But in the winter of 1943, he was detained with a few hundred other men and women in a Jewish center on Rose Street (Rosenstrasse) in Berlin. His wife, Lena, finds out where he is being held, and there she joins an increasing number of other wives and relatives whose loved ones are being held. They form a vigil group and stand watch in the cold, hoping to put moral pressure on the authorities for the release of their loved ones. It is at the Rosenstrasse protests that Lena meets and adopts a little Jewish girl, Ruth, whose mother is also being held. She takes Ruth into her home, and treats her as her own daughter. The story is framed by a modern day story of Ruth, now living in New York City, mourning her recently deceased American husband, while her own daughter Hannah (Maria Schrader) goes to Berlin to find Lena Fischer, now nearly ninety, and to learn from her the story of her mother's tragic past. The film moves very slowly and has a few too many subplots to be entirely successful, but there are moments of well-earned emotion, and the film is always tasteful and thoughtful. This is not a Holocaust movie, and it's scope is too microscopic to be particularly weighty compared to films like "Schindler's List," but still history is actually the sum of millions of smaller stories like this, and one thing "Rosenstrasse" does well is to make us mindful of the moral complexities that faced the German population during the Third Reich, ordinary people who were caught up in the larger sweep of world events. Some acted nobly, some less so, and "Rosenstrasse" does the service of putting faces, and personal details, to a few of those stories.
Wayne Schenewerk
½
I do have a thing for movies about Nazi Germany, I admit it. This one is really, really good. It also, I believe, was based on a true story...like most of them.
Cynthia S.
Super Reviewer
Very hard to get into because you switch in time so many times, but it is well worth it. Beautifully acted and well put together. Loved it.
Leigh Ryan
Super Reviewer
Rosenstrasse Quotes
There are no approved quotes yet for this movie.
Discussion Forum
Discuss Rosenstrasse on our Movie forum!