Rosewood Lane
(2011)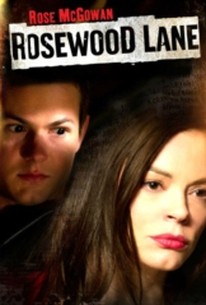 AUDIENCE SCORE
Critic Consensus: No consensus yet.
Movie Info
This psychological horror opus from controversial director Victor Salva stars Rose McGowan as Sonny Blake. She's a radio therapist who moves back to her charming and idyllic hometown after her alcoholic dad dies. All seems fine, until she learns that the neighbors are terrified, across to board, of a local newspaper boy (Daniel Ross Owens). As it turns out, their fears are justified: he's a psychopath who may have been responsible for the murders of Sonny's dad and others in the community.
Critic Reviews for Rosewood Lane
All Critics (1) | Fresh (0) | Rotten (1)
Salva's attempt to generate a fright feature built entirely out of mood, dismissing storytelling to maintain a tight focus on unexplained supernatural events, unexplained characters, and unexplained explanations.
Audience Reviews for Rosewood Lane
Doctors, dentists, carpenters, parking lot attendants, they've all had members go on killing sprees in the movies, so the next terrifying deadly profession is...the paperboy?? Bury this one deep down on your resume, Rose.
Doctor Strangeblog
Super Reviewer
½
Kind of creepy. Ending was strange, but the very last scene actually made me jump. Would have been even a more decent of a movie, had it not included cops that were clueless, and did not want to believe anything. Evidence all around, and they still think it is all her in head. Hmmmmm.
Cynthia S.
Super Reviewer
½
Rosewood Lane is what would happen if you combined Frasier with Fear, and is the latest from Jeepers Creepers Director, Victor Salva. I wanted to like this film and I wish I could tell you that's different from all the other stalking films out there, but it's really not. The only things I found interesting about this film were the tremendous performance by Charmed's Rose McGowan, and it's unique ended, that really threw me for a loop. Normally when a film has an ending that surprises me, I love it, it makes the whole film for me, and while the curve at the end of Rosewood Lane was interesting, it wasn't enough to make up for a slow moving film that resembled half a dozen other movies. The story follows Radio Psychiatrist, Dr. Sonny Blake, and her move back into the old house she grew up in. The house holds many personal demons for her, so when she claims that someone is stalking her, the people close to her find it difficult to believe. As I said earlier, Rose McGowan was terrific and was really the only person of note in this film. It's a story you want to like, but things progress so slowly and are just so dull, that when the surprise ending happens, you're reaction is that it's kind of cool, but it doesn't make up for the predictability of the rest of this film. Stalker films are supposed to be the scariest form of Horror films, because it's a real thing that happens every day, unfortunately, Rosewood Lane doesn't have the writing or the performances to pull it off. It's a decent film with a terrific ending, but instead of leaving you unnerved, it leaves you indifferent.
Todd Smith
Super Reviewer
Rosewood Lane Quotes
There are no approved quotes yet for this movie.