Rough Cut
(1980)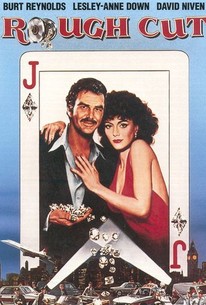 AUDIENCE SCORE
Critic Consensus: No consensus yet.
Movie Info
Notorious international jewel thief Jack Rhodes (Burt Reynolds) is out to steal $30 million in uncut diamonds in this visually opulent, uneven comedy. Chief Inspector Cyril Willis (David Niven) is Rhodes' nemesis. He wants to retire from Scotland Yard but would like to capture Rhodes as a final, dramatic cap to his career. In order to achieve his ambition, he sets up lissome Gillian Bromley (Lesley-Anne Down) as Rhodes' erstwhile partner in crime. The unpredictable happens when Rhodes and Bromley fall for each other, leaving the best-laid plans open to unexpected amendments. Three different directors had a hand in this film though their imprints are remarkably homogenous up to but not including the ending.
Critic Reviews for Rough Cut
There are no critic reviews yet for Rough Cut. Keep checking Rotten Tomatoes for updates!
Audience Reviews for Rough Cut
Almost 20 years before Catherine Zeta Jones played a woman out to catch gentleman jewel thief Sean Connery in the Hollywood blockbuster "Entrapment," the same scenario was played out by Lesley Anne-Down and Burt Reynolds - well, almost the same. This more low key affair, though no less enjoyable, is the type of caper that Cary Grant might have played 20 years earlier and indeed Reynolds gives a serviceable impression of Grant within the opening minutes of the movie that Down disses by referring to it as a "Tony Curtis doing Cary Grant." I have a soft spot for heist movies, through from the 1960s with its "Italian Job" and "Oceans 11" through the 1970s with films such as "11 Harrowhouse" and "Diamonds" right up to the last decade with the aforementioned "Entrapment" and remakes of both "The Italian Job" and "Ocean's 11." I think part of the fascination is in the sheer audacity and genius that the criminals put into their schemes, its part of what makes the "Mission Impossible" movies so entertaining. So, what about this movie? In it, Reynolds plays American gentleman jewel thief Jack Rhodes who is being doggedly pursued by Scotland Yard Inspector Cyril Willis (played wonderfully by David Niven - who himself is no stranger to gentleman jewel thief's having played one in the original "Pink Panther"). In an effort to nab Rhodes before his impending retirement Niven's character Willis blackmails English socialite and kleptomaniac Gillian Bromley (played by the incredibly sexy Lesley Anne-Down of "Sphinx" and "Great Train Robbery" fame) in a plot to catch Rhodes in the act. Willis has the reluctant Gillian feed Rhodes information on an upcoming $30 million diamond transfer from London to Antwerp intending to lie in wait of Rhodes. With an entertaining cast of characters from a Nazi pilot to an African-American air traffic controller, Joss Ackland as a Dutch police inspector and even Pierce Brosnan's then-wife the late Casandra Harris as a flighty partygoer, this movie fairly zips along. And, as with all good heist movies, there's a wicked twist at the end that caught me so of guard that I was reaching for the rewind button seconds after it happened. Yes, this movie really does satisfy.
D Harrison
Rough Cut is a Burt Reynolds movie I've never heard of & after watching it I can see why, It was terrible.I think I lost interest in the 1st 20 minutes of this movie & it's weird cause I usually either like Burt's movies or can at least watch them
Brody Manson
Super Reviewer
Rough Cut Quotes
There are no approved quotes yet for this movie.
Discussion Forum
Discuss Rough Cut on our Movie forum!