Rubber's Lover
(1996)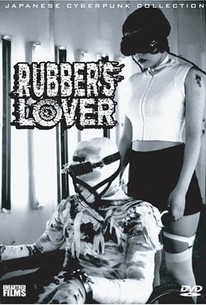 AUDIENCE SCORE
Critic Consensus: No consensus yet.
Movie Info
From Japanese cyberpunk auteur Shozin Fukui (Pinocchio 964) comes this dark tale of psychic experimentation and two researchers determined to continue their nightmarish experiments no matter what the cost. Fueled by endless funds and desperate to keep its unconventional experiments top-secret, a prosperous and powerful corporation begins conducting psychic experiments in which human subjects are administered ether, outfitted in rubber, and assaulted with D.D.D. (Digital Direct Drive) containing intense and nearly unbearable sound frequencies. When initial success at tapping into psychic ability is shadowed by an unusually high fatality rate, the corporation orders all experiments to come to an immediate halt despite the objections of head researchers Motomiya and Hitotsubashi -- who immediately take their secretary hostage and transform one of their fellow researchers into a human guinea pig. Though the experiment is more of a success than Motomiya and Hitotsubashi could have ever imagined, the powerful and uncontrollable psychic energy they unleash threatens to destroy them both and alter the course of human evolution forever. ~ Jason Buchanan, Rovi
Critic Reviews for Rubber's Lover
All Critics (1) | Fresh (0) | Rotten (1) | DVD (1)
Rubber's Lover is just a mess of a movie, an attempt at pushing the boundaries of acceptable cinema that ends up making a mockery of its own self-important idealism.
Audience Reviews for Rubber's Lover
Scientist, attempting to induce psychic abilities in people get the results they're looking for by strapping a fellow (unwilling) scientist down, shooting him full of either, and blasting incredibly loud sounds in his face. Needless to say, the unwilling scientist is not happy, and with his newly acquired power, shit goes down. Full of graphic violence, perversions, oddness, and lots of noise, Rubber's Lover has got something for everyone (and by everyone I mean people like me, which is essentially about twenty people). This movie wears it's Tsukamoto influences on it's ragged, bloody sleeve. Once the insanity starts it doesn't let up. This isn't a movie so much as a hostile assault on the senses. A must see for fans of graphically, high paced, weirdness.
Shane Donnelly
Super Reviewer
½
Those looking for a "pleasant" cinematic experience should look somewhere else. Nothing about Rubber's Lover is pleasant. It's 90-minutes of cinematic assault complete with, nudity, gore, jarring visual imagery, torture, music that is only music in the loosest sense of the term, and startling symbolism. It is not the feel good movie of the year. It is not a white-knuckled thrill ride. It is not like anything you've probably ever seen before, and for this reason alone it should be essential viewing for anyone out there looking for something new, different, and weird. Cinema doesn't always have to be safe, and the films of Shozin Fukui prove this. If you're reading this far, odds are that something about Rubber's Lover intrigues you. It's certainly not for the masses, but if you're a cinema fan with a taste for adventure and who doesn't mind a film that challenges its audience to actually use the gray matter sitting between their ears, then Rubber's Lover is definitely something that should be on your "must see" list.
El Hombre Invisible
Super Reviewer
Rubber's Lover Quotes
There are no approved quotes yet for this movie.