Rubin and Ed
(1991)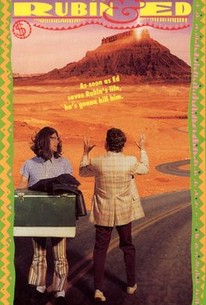 AUDIENCE SCORE
Critic Consensus: No consensus yet.
Movie Info
Rubin & Ed is Trent Harris' off-the-wall buddy movie about two mismatched geeks on a quest to bury a frozen cat. Rubin Farr (Crispin Glover) is a shy, reclusive loner who lives in his mother's hotel. He'd much rather sit in his bedroom listening to Mahler, playing with his squeaky-mouse, than go outside. His mother has other plans, however, and one afternoon she decides to pull the plug on Rubin's eccentric behavior. She demands that he go out and make at least one friend. Rubin capitulates, and after a somewhat half-hearted search, he finds Ed Tuttle (Howard Hesseman, in one of his best performances). Ed is a divorced, middle-aged loser enrolled in a self-help/ get-rich-quick organization called PPR: Positive Power through Real Estate. Ed agrees to have dinner with Rubin and his mother if Rubin agrees to attend a PPR training seminar. All goes as planned for both, until Ed opens the freezer and discovers Rubin's dead cat. The unlikely pair then embarks on an hallucinatory quest through the Utah desert in order to find the perfect spot to bury Rubin's cat. Though at first mutually disgusted by each other, Rubin and Ed eventually learn how to become friends. Karen Black is superb as Ed Tuttle's annoying ex-wife Rula, as is Michael Greene as PPR magnate Mr. Busta.
Rating:
PG-13
Genre:
Directed By:
Written By:
In Theaters:
On DVD:
Runtime:
Studio:
Working Title Films
Critic Reviews for Rubin and Ed
There are no critic reviews yet for Rubin and Ed. Keep checking Rotten Tomatoes for updates!
Audience Reviews for Rubin and Ed
Ed, a horrible but devoted salesman in a cult-like real estate sales "Organization," agrees to help shut-in Rubin bury his dead cat in hopes of getting him to attend a recruiting seminar. Howard Hessman and Crispin Glover are great in this sharply-written, sadly-overlooked comedy gem.
Greg Smalley
½
Can your cat eat a whole watermelon? Well Rubin's can, Rubin and Ed was a surreal experience, but not too surreal. Crispin Glover plays Rubin a weirdo shut in who keeps his dead cat frozen in the fridge until he can bury him. Howard Hesseman plays Ed, a man struggling to find success that seems to escape him at every turn. Ed convinces Rubin to come to a seminar with him, but Rubin won't go until he buries his cat...in the middle of the desert. The film was funny, not hilarious but I chuckled the whole time I watched. Trent Harris was the wonderful director and writer of the film. He kept the movie going at a good pace. Using special effects when need and using props to their utmost. The story never missed a beat in making me smile and laugh. The sets and locations were great. The characters start off a little remote, especially Rubin, but as the film goes along you really start to like them, even rooting for them. When the soundtrack came into play, it helped to enhance the experience. The only real downside that I found was Rubin is a little too weird. I'm sure they did this to enhance his characters unusual personality, but even I was taken aback at times. In all I recommend the movie for fans of zaniness, for everyone else...if you can find this film rent it. If only to say you watched a rare movie that was worth stumbling upon.
Stephen Ownby
A brilliantly wacky movie. I absolutely love it. Crispin plays a charmingly weird guy you can't help but love, and he's so funny too. The whole movie is full of zany comedy. One of my favourite movies of the 90s, I highly recommend it.
Rubin and Ed Quotes
There are no approved quotes yet for this movie.
Discussion Forum
Discuss Rubin and Ed on our Movie forum!