Rudolph and Frosty: Christmas in July
(1979)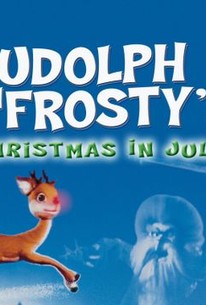 AUDIENCE SCORE
Critic Consensus: No consensus yet.
Rudolph and Frosty: Christmas in July Photos
Movie Info
Santa, Rudolph and Frosty are pitted against the sinister Winterbolt, who hopes to subdue Frosty, extinguish Rudolph's glowing nose and leave Santa lost in the fog forever. Voices... Santa: Mickey Rooney. Winterbolt: Paul Frees. Frosty: Jackie Vernon. Rudolph: Billie Richards. Lillie: Ethel Merman.
Rating:
NR
Genre:
,
Directed By:
In Theaters:
On DVD:
Runtime:
Audience Reviews for Rudolph and Frosty: Christmas in July
½
The top three Christmas classic figures from Rankin/Bass Productions - Rudolph, Frosty and Santa Claus - were put together into a nice, fun Holiday treat with their heart we know and enjoy. They were given more depth through short-length numbers under the form of expressing their hearts. To make it more pleasantly fun, their voice actors and few co-stars returned so the story would remain faithful to their past specials that were unintentionally led to a gathering, fitting crossover. Although, the faithfulness was only on the heart not accurate details that were seen in the specials; and Frosty the Snowman was given a transformation from cell animation to stop motion with the most amount of inaccurate details to the design while Rudolph has the least. Each of their original specials shows Christmassy, while their sequels prior to this crossover explores during the winter season with a small sense of Christmas spirits being carried with a presumption that Christmas was around the corner or it'd went by sometime prior. (This is mostly a reference to the Frosty sequels while both "Rudolph's Shiny New Year" and "A Year Without a Santa Claus" shows clear evidence on their time table.) There was a smaller amount of Christmas spirit being carried through the stop-motion treat and characters and some classical Christmassy numbers. However, those ingredients to pure faithfulness weren't a bother when it was about how meaningful it was through the well-written writing despite the dark side that was used for the film's direction. In the past specials, the antagonists' part of each story were set as obstacles/distractions for the hero from reaching their purpose. That side was only minimal in each specials so the majority of the special focus on the main story before the two sides clash and meet (this probably excludes "The Little Drummer Boy"). The dark side of this film took half of the story with a nasty-natured, unfitted presence. Taking that half is the evil forces targeting the magic of Rudolph and Frosty - our favorite Holiday classic characters we've grown up watching. This side posed as detours and guides to the film's directions like the detours would create spikes and back to the flat line that represents the direction going on. "Rudolph and Frosty's Christmas in July" combined their original's running times into a bigger treat that captures most of the faithfulness that made their specials special, but not at the exact same level of enjoyment. Although, it's still a holiday treat to enjoy with heart and the goodness of a stop motion picture from the Rankin/Bass Productions. Also, this special was the final appearance of these characters with their original voice actors and personality before being reintroduced for another generation. But there's an error to that point: these timeless Christmas classics are must-sees for all generations so they can be shared throughout time. (B) (Full review coming soon)
Kyle Mobray
I can't believe I've never seen this before now! I also can't believe how inferior it is to the other Rankin Bass Christmas specials. The characters are one-dimensional, the plot is convoluted and contrived, and the villain can't even make up his own evil plot without consulting his talking cave and magic snowball, who seem to have all the good evil ideas. The main fun thing is seeing characters from all of the other shows turning up all in one movie... but the fun just about ends right there. I do have to admit, though... the sleigh pulled by rein-snakes is AWESOME.
Michael Jones
Bradley Wright
Super Reviewer
Rudolph and Frosty: Christmas in July Quotes
There are no approved quotes yet for this movie.