Ruggles of Red Gap
(1935)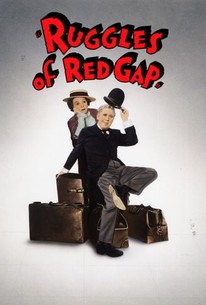 Ruggles of Red Gap Videos
Ruggles of Red Gap Photos
Movie Info
Previously filmed in 1918 and 1923, Harry Leon Wilson's novel achieved movie classic status when it was remade by Leo McCarey in 1935. The story opens in Paris, circa 1908. Ruggles, beautifully underplayed by Charles Laughton, is the ultra-obedient manservant to the bibulous Earl of Burnstead (Roland Young). During one of the Earl's nocturnal forays, nouveau riche American cattle baron Egbert Floud (Charles Ruggles) wins Ruggles in a poker game. Terrified at the prospect of being bundled off to the Wild West, Ruggles' resolve is weakened somewhat when he and the raucous but ingratiating Egbert spend a wild night on the town. (The besotted butler's periodic exclamations of "Whoopee!" are priceless.) Back in the frontier "boom town" of Red Gap, a misunderstanding obliges Egbert's social-climbing wife Effie (Mary Boland) to pass off Ruggles as an aristocratic British army officer, immediately arousing the suspicions of priggish social arbiter Charles Belknap-Jackson (Lucien Littlefield). The longer he spends in America, the more Ruggles grows to like the concept of democracy and self-determination. Of the film's many highlights, two are standouts: the scene in which Ruggles silences a rowdy saloon crowd with his recitation of Lincoln's Gettysburg Address, and the droll, semi-improvised vignette in which dancehall girl Nell Kenner (Leila Hyams) teaches the Earl of Burnstead how to play the drums. Ruggles of Red Gap was filmed for a fourth time in 1950 as the Bob Hope-Lucille Ball musical Fancy Pants.
News & Interviews for Ruggles of Red Gap
Critic Reviews for Ruggles of Red Gap
Audience Reviews for Ruggles of Red Gap
What a delightful comedic classic! This movie feels undervalued as I've never seen it discussed anywhere before. Charles Laughton gives a hilarious performance, and his comic pairing of him and Charlie Ruggles (that must have been confusing on set) is classic and one that deserved a whole series. I've never seen a funnier depiction of someone drunk as the one Laughton portrayed. Sure it's over the top exaggerated, but the coy smile Laughton wears sells it. Charlie Ruggles' character may have a little too much Yosemite Sam in him, but it somehow still works. The other real standout is Leo McCarey's direction. He helps the actor's nail there comedic timing and has a great sense of pacing. He's directed a great body of work that also seems unappreciated when compared to the notoriety of other great American film directors, and I'm starting to find him on par with Ford, Hawks, Huston, Ray, Curtiz, Minnelli, etc. McCarey is probably my third favorite classic comedy director after Hawks and Wilder (Wilder may also deserve more credit for having co-written many of his movies to one degree or another), and he's also capable of making some terrific drama (Make Way for Tomorrow is a classic and is sort of the American Tokyo Story).
Matt Heiser
A joy to view and with Charles Laughton in a non serious role for a change. He obviously relishes the opportunity and his reactions to the change in his environment are memorable.
John Ballantine
Super Reviewer
Five wonderfully distinctive performers, Laughton, Charlie Ruggles, ZaSu Pitts, Mary Boland and Roland Young get to strut their stuff to great effect in this sharp comedy.
Ruggles of Red Gap Quotes
There are no approved quotes yet for this movie.
Discussion Forum
Discuss Ruggles of Red Gap on our Movie forum!