Run! Bitch Run!
(2008)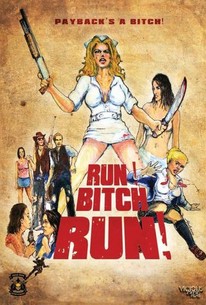 AUDIENCE SCORE
Critic Consensus: No consensus yet.
Movie Info
A sleazy throwback to such violent rape/revenge flicks as I Spit on Your Grave and Mr. 45, Run! Bitch! Run! tells the depraved tale of a Catholic schoolgirl who returns to may her tormentors pay after being viciously raped and left for dead. Catherine and Rebecca were selling religious paraphernalia to fund their education when they made they knocked on the wrong door in the wrong neighborhood. But while these lawless degenerates may be ruthless, they've just made one fatal mistake - they didn't make sure that Catherine was dead. Now, with revenge on her mind and a powerful shotgun in her hands, the girl whose innocence was stolen will stop at nothing to see the criminals who violated her suffer a slow and painful death.
Critic Reviews for Run! Bitch Run!
There are no critic reviews yet for Run! Bitch Run!. Keep checking Rotten Tomatoes for updates!
Audience Reviews for Run! Bitch Run!
Attempting to copy the grittiness of scuzzy '70s exploitations Last House on the Left and I Spit On Your Grave, this is just plain nasty. The kind of movie that makes me feel sorry for some of the actresses involved and wanting to start a collection so they can hire better agents.
Doctor Strangeblog
Super Reviewer
Exploitation to the utter extreme. I like my rape revenge flicks to be serious. That may just be me. Exploitation is fine, but this film lacks any form of enjoyability. All it contains is a series of rapes and then murders. It's so poorly shot, that it's obvious all the thought went into assaulting the audience. The film didn't so much offend me, which would have been a good thing, so much as it just made me feel dirty. Not because of all the raping and killing, but because I just knew this film had nothing to say. On the plus side, it did have some fantastically bad one liners which made me laugh. These hinted towards a movie that could have been a dark comedy.
Luke Baldock
Super Reviewer
½
After watching the I Spit On Your Grave remake I've had a hankering for 'Women on the Warpath' movies. So since then I've watched Killer Nun (thumbs down) and Nude Nuns with Big Guns (thumbs UP) and now this one and wow what a letdown. The dialogue and acting are just laughable (the lead bad guy sounds like Corey Feldman in The Lost Boys sequels) and the violence is too sparse and dull minus the final confrontation which is the highlight of the whole thing. While NNWBG feels like a well done simulation of a Robert Rodriguez movie this feels like a bad knock off of Quentin Tarantino. If you watch it as a black comedy you may find some value but for those looking for an entertaining exploitation movie you should probably look elsewhere.
A.D. Villarreal
Super Reviewer
Run! Bitch Run! Quotes
There are no approved quotes yet for this movie.