Run for the Money
(2002)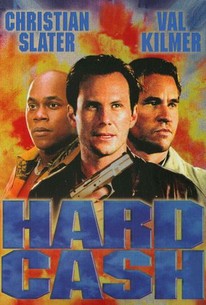 Movie Info
Christian Slater, Val Kilmer and Daryl Hannah add star wattage to this riveting crime caper. When he's released from prison, a wily thief (Slater) and his team of ace robbers pull off a brilliant heist---only to be blackmailed by a crooked FBI agent (Kilmer). Sara Downing, Balthazar Getty, Verne Troyer.
Critic Reviews for Run for the Money
Audience Reviews for Run for the Money
I can just see the brainstorming session for this film: "Hmmmmm.... what's the dumbest plot of a Baywatch episode?" "Oh yeah- that one where Mitch defuses a bomb, performs open-heart-surgery with popsicle sticks, and rescues Hobie from Guatemalan-Terrorists!" "Now how can we make it worse?" That is Hard Cash in a short summary. You would THINK this was meant to be a cheesy movie along the lines of the Toxic Avenger, or some other movie where the audience knows the filmmakers aren't taking themselves seriously, but no....they actually ARE taking themselves seriously! And it's goddamn pathetic.
William Hamm
I picked this up thinking it was something else (bought it in Japan, and the title wasn't clear, as is normal when translating Western titles to Japanese). I can't believe I watched all of it. I have nothing really constructive to say about it, except that it seemed like they got a ton of actors all on the downsides of their careers and put them together with a cookie-cutter plot. It's nothing anyone hasn't seen before, and there are far better movies to waste your time on.
Blake Baldwin
½
A surprisingly enjoyable film, one that you can just sit back at let it unravel. A good little scheme, predictable, but enjoyable.
Lady D'arbanville
Super Reviewer
Run for the Money Quotes
There are no approved quotes yet for this movie.
Discussion Forum
Discuss Run for the Money on our Movie forum!