Running Time
(1997)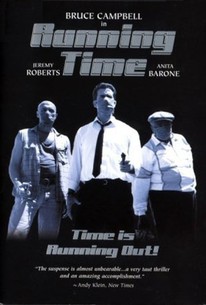 AUDIENCE SCORE
Critic Consensus: No consensus yet.
Movie Info
Like Alfred Hitchcock's Rope, the low-budget, black-and-white thriller Running Time was edited to disguise its cuts, giving the illusion that the film takes place in real time. Cult hero Bruce Campbell (The Evil Dead) stars as Carl. As the film starts, Carl is getting out of prison, and he tells the warden (veteran character actor Art La Fleur) that he plans to go into the laundry business, which he learned while working in the prison. Carl's old high school football buddy and literal partner-in-crime Patrick (Jeremy Roberts) picks him up outside the gates with a hooker in the back of his van. Things take an awkward turn when the hooker turns out to be Janie (Anita Barone), whom Carl dated and unceremoniously dumped in high school. After hitting it off and patching it up with her, Carl and Patrick head straight to their planned heist -- robbing the warden's laundry business. Along the way, they pick up their safecracker, Buzz (Stan Davis), Carl's prison buddy, and their driver. Carl is dismayed to find that Patrick has hired Donny (Gordon Jennison), a junkie with poor social skills, to drive for them. Their robbery plot goes awry when Buzz finds out that the warden replaced his safe while Patrick was supposed to be casing the office. During the delay, Patrick bickers with Carl, and there's unnecessary bloodshed. To make matters worse, the payload turns out to be far less than expected, Donny is nowhere to be found, and the police are on their tail. Wounded and desperate, Carl makes plans to meet up with Patrick at Janie's apartment. Writer/director Josh Becker shot Running Time on 16 mm, in sequence, in ten days.
Rating:
NR
Genre:
, ,
Directed By:
Written By:
In Theaters:
On DVD:
Runtime:
Studio:
Panoramic Pictures
Critic Reviews for Running Time
All Critics (1) | Fresh (1) | Rotten (0)
It's the kind of dumb movie where you are encouraged to laugh at the pathetic losers on the screen.

Ozus' World Movie Reviews
Audience Reviews for Running Time
Bruce Campbell stars as just released from prison Carl, who has been masterminding a plan the whole time in. Writer-director Josh Becker shoots in B&W, and it's all one take. No, I don't mean that there's a few very long shots here, I mean the entire damn thing, much like it's inspiration, Rope, is a (seemingly) long, continuous shot. Sometimes, the trickery is a bit more obvious, like when we pan across the van and across over an all black bit- I'm positive they stopped there, reloaded their film, and continued. Other times, it's much harder to figure out. Of course, this style would all be for naught, if the didn't bring a sense of urgency and immediacy to the proceedings, but thankfully, it does. The script, while not mind-blowingly original, is good enough, and keeps everything in check. The heist plan goes awry, as things are wont to do, but it is still successful.; that's not a spoiler, as most of the film takes place after the robbery. It's a lot of fun to watch these characters under pressure, and the tipping point at which they go bonkers. Campbell is excellent here, playing a slightly different version of his usual, smug, know it all persona; it's different enough to be noticeable, but not so different that it's much of a stretch. I for one, can watch Campbell do anything, so this didn't bother me in the least. As his partners in crime, Jeremy Roberts, as Patrick, a kind of dumb, quick tempered lug, is the best. Roberts exudes a sort of slimy, selfish attitude that fits well within the story. William Davis, as middleman Buzz, is only OK, but not bad enough to ruin the film, neither good enough to be of any real note. Gordon Jennison as druggie/ getaway driver Donny is very good. He really acts and sells it, and a scene where Campbell catches back up with him is excellent. As requisite love interest Janie, Anita Barone has suitable chemistry with Campbell, and sells the heartbroken fact, but when she's trying to be tough, it's not as easy to swallow. Still, she's ok. The pacing, which is given a nice boost from the fun score, is good, and will have you on the edge of your seat.
Bobby LePire
Most of this film is actually pretty engrossing. A tribute to Hitchcock's The Rope, this film is shot in seemingly one shot, telling the story of a man getting out of jail and pulling a heist. The one shot idea is gimmicky for sure, and become frustrating, yet really lends a realist feeling to the story. The realism, although is altered since it's shot in black and white and Bruce Campbell performance is reminiscent of a leading man of the '40s, giving this film a real sort of classical Hollywood B-Movie feel. Yet despite Bruce, everything else takes place in the present. This, however works and creates a pretty compelling film... until the last 20minutes. The last bit of the film finds Bruce Campbell and the "lead" female "acting", giving back story and building a romance out of nowhere. The romance isn't very logically built, as Bruce doesn't remember her for most of the movie only for his memory to be jogged by an element of their past to reveal that he had this great love for her. One could say it's not well sold, and when these actors need to to the kind of acting that is needed for the scene, they fall short. The inclusion of music in spot isn't great and stands out like a sore thumb, when no music would have sufficed. Either was, this is a great experiment, that I really enjoyed the hell out of for the most part.
Patrick Dolan
Super Reviewer
½
Great low budget Becker film which follows Hitchock's Rope in trying to make it seem like it's taken in one shot. The story is forgettable, though Bruce is in it, but the filmmaking is very memorable.
Christopher Brown
Super Reviewer
Running Time Quotes
There are no approved quotes yet for this movie.
Discussion Forum
Discuss Running Time on our Movie forum!