Running Turtle (Geobugi dallinda)
(2010)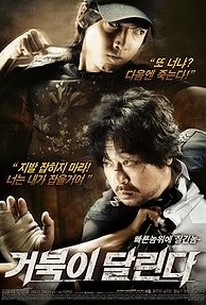 AUDIENCE SCORE
Critic Consensus: No consensus yet.
Movie Info
An inept cop sets out to find the criminal who wronged him in this comic take on Asian crime dramas. Jo Pil-seong (Kim Yun-seok) is a policeman with a few bad habits, mostly a fondness for gambling, and a wife (Gyeon Mi-ri) who doesn't think much of him. When things get rough while Jo is arresting a pimp, he's given a temporary suspension from the force that only increases the tension around the house. Song Gi-tae (Jeong Gyeong-ho) is an escaped criminal with a ruthless streak and a taste for violence; one night Jo is at an illegal casino and winning for a change when Song shows up, takes his money and then beats him up. While Jo hasn't been assigned to track down Song, he feels as if his dignity is on the line, and with the help of some friends he sets out to find the fugitive. However, Jo isn't much of a detective and his friends are even worse, making his personal investigation an uphill battle. Written and directed by Lee Yeon-woo, Geobugi Dallinda (aka Running Turtle) was a major box-office success in South Korea. ~ Mark Deming, Rovi
Critic Reviews for Running Turtle (Geobugi dallinda)
There are no critic reviews yet for Running Turtle (Geobugi dallinda). Keep checking Rotten Tomatoes for updates!
Audience Reviews for Running Turtle (Geobugi dallinda)
½
This film wasn't bad but it wasn't good either. This is best describe as a decent film that you'll quickly forget about it as it provides nothing even remotely memorable. It is never bad at any point but you feel apathetic about it all after it's over. I just found the film to be lacking in something that would've taken it to the next level. I don't think the villain is really developed that well, he's just a dick for no reason whatsoever. The acting is solid, the acting is hardly ever the problem in South Korean flicks. The problem is that the writing, while having a decent idea of this man trying to do right by his family, just doesn't have the punch it probably should've had. Then again I prefer this to the typical melodrama found in South Korean comedies. Still, the story could've been better or at least more entertaining, since the film really wasn't that fun to watch. Comedies can get away with not being funny if they're at least entertaining to watch. It IS possible to do. Anyway, a decent but not particularly memorable Korean "comedy".
Jesse Ortega
Super Reviewer
½
Crime thriller Running Turtle, from Yeon-woo Lee, is a decent motion picture out of Korea.
Sporting a 1 hour 50+ minute run time, this film spends a lot of time setting up the story and characters before it actually picks up. It moves by at a moderate pace, but when it comes down to it, there is nothing striking about it. The antagonist lacks real treachery, so for most of the picture the hero is one to cheer for out of pity, and not because of a detestable villain. This isn't all bad because there is a lot of depth for the hero, Pil-seong.
There isn't anything memorable about the action. The story behind the villain is that he is skilled in martial arts; however, none of the action segments thrive on this, as most come across as typical brawls.
In this rural setting, Kim Yoon-seok does an excellent job as Pil-seong. Jeong Kyeong-ho is an acceptable criminal and the rest of the supporting cast put up convincing enough performances.
Running Turtle is nowhere near horrendous, but it isn't a high recommendation; still, it fits in line with other Korean crime thrillers.
Running Turtle (Geobugi dallinda) Quotes
There are no approved quotes yet for this movie.
Discussion Forum
Discuss Running Turtle (Geobugi dallinda) on our Movie forum!