Rurôni Kenshin: Meiji kenkaku roman tan (Rurouni Kenshin)
(2012)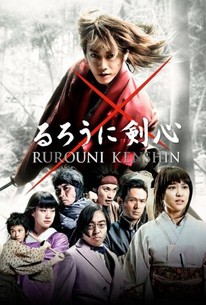 AUDIENCE SCORE
Critic Consensus: No consensus yet.
Rurôni Kenshin: Meiji kenkaku roman tan (Rurouni Kenshin) Videos
Rurôni Kenshin: Meiji kenkaku roman tan (Rurouni Kenshin) Photos
Movie Info
In the wake of a brutal civil war, the legendary and feared killer Kenshin Himura throws down his sword and vows to turn his back on bloodshed. Choosing instead to live his life as a peaceful wanderer, Kenshin soon finds that the world around him is rapidly changing-and not for the better. A sadistic drug lord, Kanryu, oppresses the people, poisoning them with opium and stealing what little they have left. When this greed-driven monster threatens the beautiful kendo instructor Kaoru, Kenshin can no longer stand idly by. Together with his street fighter comrade Sanosuke, Kenshin sets his sights on a showdown with Kanryu and his deadly henchmen. In a staggering action sequence for the ages, longtime fans will find out if Kenshin can survive his promise to face his own blade-before spilling the blood of his enemies!
Rating:
NR
Genre:
, ,
Directed By:
Written By:
Runtime:
Critic Reviews for Rurôni Kenshin: Meiji kenkaku roman tan (Rurouni Kenshin)
All Critics (1) | Fresh (1) | Rotten (0)
Behind the adolescent storylines gleams a well-shot swordplay spectacular, featuring a scene-stealing turn from Munetaka Aoki as the Little-John-meets-Ryu-from-Street-Fighter-II sidekick with the 8ft slab of blunt metal.
Audience Reviews for Rurôni Kenshin: Meiji kenkaku roman tan (Rurouni Kenshin)
The fight scenes were superb. My eyes were glued the entire time. I loved how Kenshin increased his fighting speed as the inner warrior in him was released. The soundtrack itself was outstanding and the last track at the end completely fit the ending. The acting was 8/10 overall. I completely enjoyed the movie, 10/10.
Michele The Shadowsinger
Rurouni Kenshin is the live action adaptation of the manga/anime of the same name or Samurai X in Europe. The story is about a legendary assassin(or Man Slayer for the fanboys) called Himura the Battousai, who lead the Meiji Government to a new Era. After the Meiji government took over Japan, The Legendary Battousai disappeared... That is until 10 years later when a mysterious man called Kenshin Himura shows up just when another man who has taken his old persona and a Drug Cartel is in the works selling "Spider Web" Opium. Now my opinion of the movie it self is this is another anime manga based movie which has taken a completely different turn but still retains the story of the original series which has succeeded to amaze fans new and old but although this movie is great and all, it suffers major flaws. Pros: The main actor is played by Takeru SatÅ?. Covers Ep.1-13. The Cast is very good. One Ok Rock does the main song. It's almost 2 hours. Awesome Fight scenes done by Takeru. Soundtrack is very beautiful. 2 more movies already out in Japan Cons: the story is messed up, Jinei wasn't the Battousai at any point in the anime and only had 2 episodes. The Oniwaban Ninjas have no involvement in the movie (hennya is in the movie bit was unnecessary). Most of the significant characters like Yahiko isn't really in the movie. SanÅ?sake Sagara doesn't follow the anime story so doesn't explain how he got to who he is now. Kaoru isn't like the anime and is rather a weaker character in this one. Hajime SaitÅ? is brought in too early. Without the flaws, the movie is worth a watch and I give it 4/5 because it doesn't let me do 3 1/2 /5
Kazuto Kawakami
[img]http://upload.wikimedia.org/wikipedia/en/f/f6/Rurouni_Kenshin_%282012_film%29_poster.jpg[/img] When Warner Bros. took on themselves the international distribution of this movie, they knew what they had in their hands! Especially with the rumours circulating that the crew aims to succeed internationally and eventually make a series. I wish they do that because Rurouni Kenshin is a Japanese movie with a soul. Whether you are an anime fan in the past or present, or simply someone that appreciates movies about Samurai with interwoven love story, this art work serves to entertain, and it does very well. The film is an adaptation of Rurouni Kenshin based on Nobuhiro Watsuki's popular manga of the same name. Directed by Keishi Ōtomo with no major faults and lots of finesse, the film stars charismatic Takeru Satoh and Emi Takei, which had chemistry between them ready to explode! All those fictional events that take place during the early Meiji period in Japan, telling the story of a wanderer named Himura Kenshin, formerly known as the assassin "Hitokiri Battusai," looked so real that I almost accepted them as facts. An ideal artistic mix of fast and furious choreography incorporated in the sword fights gives Sato Naoki an opportunity to show his outstanding acting abilities. One of the film critics wrote that "His energetic score pounds out the action scenes to a barbarian beat..." and that is very suitable description for what was seen on the big screen. You are in for a treat with a movie which offers balanced action scenes which are always fun to watch but not too intense, a movie with appealing characters and very fine polishing as a final product. Rurouni Kenshin works extremely well as a standalone movie, though it does do plenty to set up a likely sequel. Looking forward that happening sooner than later!
Rurôni Kenshin: Meiji kenkaku roman tan (Rurouni Kenshin) Quotes
There are no approved quotes yet for this movie.