Rushlights
(2013)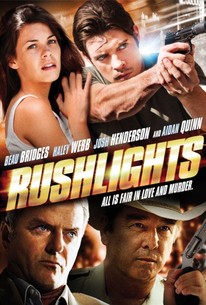 Movie Info
Billy (Josh Henderson) and Sarah (Haley Webb), two deliquent teenage lovers from the suburbs of Los Angeles travel to a small southern town to falsely claim a dead friend's inheritance. The two teens wind up in a nightmare of greed and betrayal when confronted with the twisted and bizarre underworld of Tremo, TX.(c) Vertical Ent
Rating:
R (for violence, language, sexuality and drug use)
Genre:
, ,
Directed By:
Written By:
In Theaters:
On DVD:
Runtime:
Studio:
News & Interviews for Rushlights
Critic Reviews for Rushlights
Audience Reviews for Rushlights
The film has way too many bad guys you can't swing a dead cat without hitting one! And yet it still managed to be pointless and boring!
Juli Norwood
½
Fans of Breaking Bad need not go into withdrawal just yet for lack of drug fuelled, greedy southwest weirdness. Out now on DVD, Blu-ray and I-Tunes / VOD is RUSHLIGHTS, director Antonio Stutz's suspenseful Texas thriller with enough steamy heat, plot twists and the occasional syringe in the eye to keep you on the edge of your couch for the entirety of its 94 minute spin in your disc drive of choice. What a tangled, bloody, web Sarah and Billy (Haley Webb and Josh Henderson) two would-be grafters from LA weave, when at first they practice to deceive in Sheriff Brogden Jr.'s (Beau Bridges) tiny but terrible secret packed town of Tremo. Long allegedly-true-story short, unshaven but smiling Billy meets weary but winsome waitress Sarah at Stanley's diner. Grungy romance ensues until Ellen a friend of Sarah's who coincidentally looks just like her, overdoses and documents in her purse indicate she was about to inherit a whole lotta land and other valuable properties from her uncle Zackary Niles in the Lone Star State. In a monumental moment of bad decision making, Sarah and Billy, get the idea (though he suggests it) to see if Sarah can pass as Ellen and lay claim to the multimillion dollar estate. What could go wrong? Plenty or this would be a fifteen minute movie. At first Billy and Sarah's scheme appear to be going smoothly, thanks to the help of Cameron Brogden (Aidan Quinn), the attorney for Uncle Zackary's estate. Initially Cameron is courteous, seems to believe Ellen's story and appears agreeable to ownership changing hands in a calm, slow talking manner. Not so neighborly however is Sherriff Brogden Jr. (Beau Bridges) Cameron's older brother and the law of the town for the past thirty years. Like most movie sherriffs Brogden is suspicious of all "foreigners" to the town, has plenty of questions and is determined to do as much poking around as the law will allow and maybe a little more to find what's really going on. What comes next is a perfect storm of murder, mendacity and cross dressed small town strangeness, the kind you don't hear about in John Cougar songs. Without giving any plot twists or double crosses away, suffice it to say RUSHLIGHTS is a tense, indie thriller best viewed late at night through the bottom of a Corona bottle with a side of Cuervo, for sipping. One question that did come to mind was where are Harry Dean Statnton and Matthew McCaughnehey in all this? As for the title, I still don't know what RUSHLIGHTS means, despite a quote at the picture's beginning having something to do with such 18th century trending topics as "pith", "rush" and "tallow" from a poem by B.J. Smith. But any way you view it or construe it, it's worth sticking around to the end to see who gets away with what may or may not be coming to them.
Spyder Darling
Aidan Quinn and Beau Bridges stole the show for me; I wish these two were in more movies together. They really grounded this younger cast with their experience. The visuals were absolutely gorgeous; they really sold me on the sense of isolation that seems to haunt the main characters. Rushlights is a departure from the average thriller and brings a chill to the Texas landscape. Highly recommended.
Gregg Henderson
Rushlights Quotes
There are no approved quotes yet for this movie.
Discussion Forum
Discuss Rushlights on our Movie forum!