Russ Meyer's Vixen
(1968)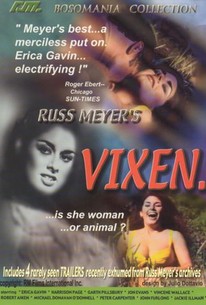 Movie Info
In this Russ Meyer production, Vixen (Erica Gavin) is unable to control her insatiable appetite for sex. Her husband Tom (Garth Pillsbury) is unable to satisfy her, so in the beginning scene she is seen coupling with a Mountie. She moves on to various other partners, including a married couple on vacation at a dude ranch, her brother, a black airplane hijacker and another woman. Once and a while, Vixen makes time for her husband's amorous requests, but there probably isn't enough film in the world to chronicle her sex-crazed conquests. In the '60's, Meyer was quick to denounce the recent four-category rating system of films that branded his films with an "X" after the release of this feature. Still, the rating system of G, PG, R, and X would remain until 1997, and would find Meyer still denouncing the system of ratings as forced censorship and the choking of artistic freedom.
Critic Reviews for Russ Meyer's Vixen
Audience Reviews for Russ Meyer's Vixen
This movie is Russ Meyer's classic Sexploitation movie. There's no real sex. There never is in a Russ Meyer movie. There are just lots of women with really big boobs. It's set and filmed in British Columbia Canada. The main character is the wife of a fishing guide at a fishing lodge. He flies in customers who just happen to have wives with big tits. Russ Meyer never bothered to have his movies rated so they have an automatic X rating although it's probably only an R rated movie. After all the nude scenes he throws in some political commentary. In this movie he makes the main character an obvious racist. Then he gives her brother a black friend for her to call all kinds of outdated racist slurs. He then makes the last customer an Irish Communist member of the Irish Republican Army. He tries to highjack the fishing guide's airplane to Cuba. Why is never explained and why did he think he could fly a four seat airplane across the United States without being caught when they stopped for gas. It just gave Russ Meyer a chance to give his opinion of Communism and Racism. It also allows his movies to be shown in places where movies had to have a non-sexual plot to not be labeled as pornography.
Donald White
The genius of Russ Meyer is that he directs sleazy subject matter with the bright, cheery energy of a harmless TV sitcom. The viewer's moral filters are fooled -- it's a guilty pleasure, minus the guilt! One of Meyer's better vehicles, "Vixen!" squeezes plenty of bouncy fun into just 70 minutes. Of course, the plot is secondary to the sex scenes (which are quite tame by today's standards), but the story is delightfully offbeat: Bush pilot Tom lives with his insatiable wife Vixen (Erica Gavin) in the remote forests of British Columbia. Vixen's motorcycling brother Judd also hangs around the place with his black, draft-dodging friend Niles. All sorts of quirky dynamics simmer between these four. Vixen boasts that she'll sleep with anyone except "spades and cripples," and repeatedly infuriates Niles with racist epithets. Niles is prone to break into diatribes about being asked to fight the white man's war, while otherwise being treated like a second-class citizen. Naive, easy-going Tom has no idea about his wife's frequent infidelities. And Judd and Vixen nurse incestuous desires for each other. Oh my. The action heats up even more when Tom is hired to fly a young, attractive couple to Toronto, and lets them temporarily stay at his lodge. Dave neglects his wife Janet but is tempted by Vixen's overt flirtation, and sex-starved Janet is eager for revenge. Will these curvy women keep their tops buttoned? If you've ever seen a Russ Meyer movie, you know the answer. The final act takes an unexpected turn when Tom brings home a second client whose unusual agenda makes Niles reconsider his anti-America mindset. Intriguing, how Meyer manages to fit discussion of communist Cuba into a lowbrow skin flick. Gavin lives up to her character's name with a lovely, refreshingly natural body (she looks somewhat like Sarah Silverman, if Silverman were actually as sexy as her male fans insist). She's not the world's best actress -- when she's in an aroused frenzy, her tremors and clenched jaw seem more murderous than excited -- but her seduction dance while fondling a river trout can not be missed.
Eric Broome
Super Reviewer
I hate to admit it, but I just couldn't get into this one as much as some of Meyer's other films. Vixen is crazy hot, but she's also just CRAZY-- hateful, abusive and irredeemably racist. Still, it's Russ Meyer, so you should see it anyway.
Jason Coffman
Russ Meyer's Vixen Quotes
There are no approved quotes yet for this movie.
Discussion Forum
Discuss Russ Meyer's Vixen on our Movie forum!