Ryan's Daughter
(1970)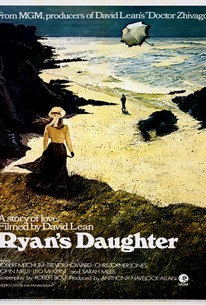 Movie Info
This romantic war drama takes place in the political turmoil of Ireland in 1916. While the British battle European aggressors in World War I, The Irish Republican Army makes a secret deal with the Germans for a cache of weapons to battle British rule. Charles (Robert Mitchum) who meets rosy (Sarah Miles) on a return trip to Dublin. They fall sin love and marry, but Rosy has an illicit affair with British officer Randolph Doryan (Christopher Jones). Tim O'Leary (Barry Foster) is the IRA gun runner waiting for a shipment of German rifles to arrive by sea on the West coast of Ireland. When evidence of the affair (a military button) is paraded in the streets to discredit the unfaithful Rosy, Charles ignores the indignant neighbors. He does tell British authorities of the impending gun shipment in an effort to halt reprisals from the occupied forces. IRA loyalists break in to their home, stripping Rosy and shaving her head when they believe she is the one who tipped off the British. Leo McKern plays Rosy's father, and Trevor Howard plays the kindly Catholic priest. John Mills won an Oscar for his portrayal of the village idiot Michael as did cinematographer Freddie Young for his excellent lensing of this wartime romantic triangle.
Critic Reviews for Ryan's Daughter
Audience Reviews for Ryan's Daughter
Even though I hated this movie, I decided to be creative and present my review in the form of three haikus. Enjoy! RYAN"S DAUGHTER: Needlessly drawn out and boring love triangle. David Lean's big fail. There is no excuse: great cinematography can't save a snoozer. Despite some good scenes and production values, you should skip this dull mess.
Chris Weber
Super Reviewer
Visually stunning but dramatically drawn out love story. This takes far too long to tell it's sad tale but good performances and once again absolutely breathtaking cinematography compensate a great deal. The storm sequence is one of the most beautifully shot scenes I've ever seen in any film.
½
Depending on one's point of view,David Lean's RYAN'S DAUGHTER, is either an epic romantic tragedy or a film whose extravagant production overwhelms what might have been a genuinely affecting drama. It may have been a rare misfire or a self-indulgent mess,this was in fact the only movie David Lean did during the entire decade of the 1970's. Written by Robert Bolt,who had far more to chew on with his impressive screenplays of other David Lean masterpieces like "Lawrence of Arabia",and "Doctor Zhivago". RYAN'S DAUGHTER tells the story of a headstrong pub owner's daughter(Sarah Miles)living in a coastal town in English-occupied Ireland in World War I. She fulfills a childhood dream by marrying her handsome school teacher(a poorly cast Robert Mitchum got the part,but Lean insisted on either Peter O'Toole or Omar Sharif),only to be disappointed by the realization he is actually a passionate bore. She is subsequently all to open to fall in love with a shattered,shell-shocked,yet handsome British soldier(Christopher Jones),who has been sent to complete his duty in her otherwise sleepy town. Despite its simplicity,it was originally released theatrically, in November of 1970, in Super-Panavision 70MM,and it many cities was shown on the curved screens designed for the already abandoned Cinerama format(which was huge during the 1960's). It was given a sweeping lavish "Zhivago" style score by Maurice Jarre,while the cinematopgraphy was directed by the great Freddie Young-who would win one of its two Oscars. The other went to veteran John Mills(Oscar winner for Best Supporting Actor in 1970)as the village idiot.
Mister Caple
Super Reviewer
Ryan's Daughter Quotes
There are no approved quotes yet for this movie.