S21: The Khmer Rouge Death Machine
(2004)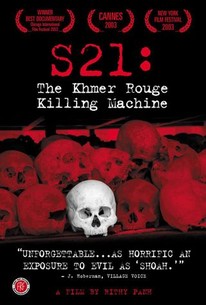 S21: The Khmer Rouge Death Machine Photos
Movie Info
The brutality of Cambodia's Khmer Rouge regime is documented in Rithy Panh's documentary, S21: The Khmer Rouge Killing Machine. S21 was a notorious detention center, an abandoned suburban schoolhouse used by the Angkor (the Communist Party organization) for the imprisonment and torture of thousands of innocent citizens. Prisoners were tortured until they confessed to false crimes, and were also ordered to incriminate others. Of the approximately 17,000 prisoners who were interred there, about seven survived. Panh interviews two of the survivors, Vann Nath and Chum Mey. While Mey can barely bring himself to speak of the horrors he endured, including the loss of his family, Nath agrees to return to the prison, which is now the Tuol Sleng S21 Genocide Museum, and discuss his ordeal. Panh also brings back several of the Khmer Rouge personnel, who committed atrocious acts on behalf of the regime, many while they were still teenagers. The guards and interrogators give a horrific tour, reenacting their treatment of the prisoners, and going through the regimes detailed records, including photographs, to refresh their memories of the horror they took part in. Panh allows Nath to confront them about their actions, but most of them claim that they themselves were also victims, indoctrinated in the regime's poisonous ideology, and too afraid for their own safety to show any compassion for their victims. Panh himself was imprisoned at a Khmer Rouge labor camp as a teenager, before escaping to Thailand in 1979. S21: The Khmer Rouge Killing Machine won the Prix François Chalais at the 2003 Cannes Film Festival, and was also selected for the 2003 New York Film Festival.
Rating:
NR
Genre:
, , ,
Directed By:
Written By:
In Theaters:
On DVD:
Runtime:
Studio:
First Run Features
Critic Reviews for S21: The Khmer Rouge Death Machine
Audience Reviews for S21: The Khmer Rouge Death Machine
This is the first of 2 depressing documentaries I watched in a row. As horrendously sad as this historic incident that is the subject of this movie is, it is sad to say that I thought it wasn?t very exciting. That doesn?t mean to say that subject isn?t interesting, just that the movie gets a little ?repetitive?. It is a unique opportunity to rehash the absurd genocide that occurred. People who were part of the killing machine are confronted by people who were the victims. But are the punishers also victims? That?s one of the things this doc puts forth, and probably the most compelling thing, but watch people repeat their actions and show that they were pretty much brainwashed doesn?t make for exciting movie watching. Again, it is a brave accomplishment. It is a bold message about one of the worst things that can ever happen and did in modern times. I get it. And you can too by watching. The bad part is that it can be got even without really paying attention to the movie.
Lee B
½
Very haunting film about the murderous regime of the Khmer Rogue in Cambodia. Could have used a bit more cotxt and structure. I dont know a whole lot about the Khmer Rogue and its origins, but the film only spends about three minutes on that in the very beginning. Still, the interviews with the victims of torture and the guards that did it to them is intense.
Jon B
½
[color=#000000][font=Verdana][color=white][u][size=3][b][size=4]S21: The Khmer Rouge Killing Machine[/size][/b] [/size][size=2][b](2004)[/b][/size][/u][/color][/font][/color] [font=Verdana][color=white][b]This documentary is truly a wrenching film experience. S21 was the name of a Cambodian prison where thousands of people were tortured and murdered under the Khmer Rouge regime of Pol Pot. Director Rithy Pahn's mother, father and sisters were among the 2 million Cambodians killed during this era which started in 1975. The film is a true testimony to the horrors people will inflict on others when ruled by an authoritarian regime. We see S21 the now abandoned prison on the outskirts of Phnom Pehn and interviews with survivors of this holocaust as well as a few of the prison's former guards. The combined stories are enough to rivet you to your seat and make you thank god you've never been singled out for such terrifying random abuse and abominable evil as the experiences described here. Truly an amazing and educational film, the sad problem is, the lesson learned won't help you much in this world.[/b][/color][/font]
Ray Dunby
S21: The Khmer Rouge Death Machine Quotes
There are no approved quotes yet for this movie.