S&Man
(2010)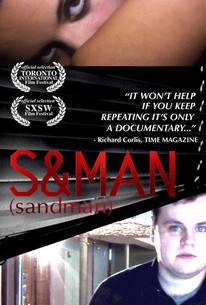 Movie Info
Soft for Digging and Mimic: Sentinel director J.T. Petty blurs the line between fact and fiction while exploring the connection between voyeurism and horror films by speaking with both the people who make them and the scholars who study them. In addition to delving into such issues as objectivity/subjectivity, audience sympathy, and what the need to be scared says about the viewer, Petty backs up his theory about voyeurism's connection to horror by exploring the case of a filmmaker whose eerie, shot-on-video horror films display an unsettling level of realism.
Audience Reviews for S&Man
160110: Held nothing for me other than the hope it was a scary movie. It wasn't. It's a documentary, literally; not as described on the back of the box. And a poor one at that. Perhaps if you held some interest in this type of film making, super low budget horror. Into the garage sale pile.
John Redshaw
Loved it. I am a huge horror fan, but not into the shock-for-the-sake-of-shock school of 'disturbing gore-porn' horror. In fact, I didn't enjoy Soft for Digging at all. I only say that to underscore how much I did enjoy this film. Petty takes a creative look at voyeurism and really challenges rational suspension of disbelief. I almost felt that my enjoyment was self-indictment: kind of a 'Funny Games' guilt-trip, lessened by the knowledge that I knew I was watching fiction. True story: I've shown the film to three friends since. I'd discreetly sold each on the idea that we were going to watch a true documentary 'gone wrong.' Each was absolutely terrified by the film. It was interesting to watch, and it made me wish I'd seen it devoid of any a priori plot-knowledge. I don't know how much less effective, if at all, the film is with the knowledge of its twist. I do know that I've yet to suggest the film to someone who didn't watch and then report that they'd enjoyed it. To me that's the true measure of a film in any genre. Notes: 1. J.T Petty is an extremely likeable presence narrating the film. 2. August Mordum (and his grandma story): pleasant and engaging. Wow. 3. Still not convinced Erik Marcisak is not a purveyor of snuff films. 4. Erik Marcisak was excellent: believable and fun to watch. 5. Do not show this movie to a girlfriend, then hide behind a door with a water-dampened rag and pretend to chloroform her when she exits the bathroom- followed by hysterical laughing at her terrified reaction. That may not have caused us to break up, but it couldn't have helped either. Sorry Amy! 6. Theory: the ampersand (&) in the title hurt this one's chances at achieving more notoriety and a bigger cult following. Thanks for reading...and enjoy the film! -E
Ella Ross
½
7.4/10 Sometimes, I watch horror films to be entertained, and sometimes, I watch them to be disturbed, compelled, and shocked. Films such as "Henry: Portrait of a Serial Killer" and Lars Von Trier's "Antichrist" were not made to entertain. They were mean to feel like an emotional and horrific sucker punch to the face. If a film can disturb me whilst being smart, then that's good filmmaking. Bad filmmaking, in the horror genre, to me, is when someone can disturb you merely by showing; without telling. "S&Man", which is obviously just a stylized way to spell "Sandman", is a documentary that has done its homework on some of the nastiest and most horrific horror films/snuff films in history. I don't like snuff films. I never will. I don't get pleasure out of watching anything that shows violence without a reason, or without substance. I suppose you can still be sane and enjoy these kinds of movies, but I have limited respect for those who laugh and make rude, piggish comments on films meant to provoke and disturb. I liked "S&Man" because it is smarter than it probably needs to be. It knows quite a bit about the material it is talking about, and while the material and content shown is horrific and repulsive, the film has its reasons; and they are good ones. It's not an informative documentary, per se, but it makes commentary on the horror genre, and it is commentary that actually works. The film is about the documenter and his crew diving deep into the world of horror filmmaking. There are some interviews with people who specialize in horror analysis; people that understand the genre as much as, say, a guy like me does. At its core, the movie really is about snuff films and underground horror. That is what it wants to be about; and that is the kind of movie that it is. I went in knowing that I could either feel dirty and dizzy upon viewing it, or I could absorb it and see it as intelligent filmmaking. It's a good movie, with a point (which basically stands as its story) that draws you in until the very end. Look people. Don't expect to enjoy this movie. It's not meant to be enjoyed, and it is not presented in a way where you could look at it and say, "Hey. That was fun to watch!" You shouldn't think like that, but if you are a horror fan, then you may appreciate the stuff that this film says for the dark corners of the cinematic earth. I guess when it all comes down to you deciding whether you actually want to watch this thing or not, you have to make a decision. Would you find these people sick on sight, or would you perhaps look at them for a while and then make your finale verdict? Can you sympathize for people who make snuff films for fun? I can't. I don't think they are good people; I don't think they are bad people. They are just human beings with the ability to enjoy things and acts that most cannot. If you can take "S&Man" for what it is, and without vomiting, then you're ready for it. I am recommending it because in fact, it's a smart movie. Not for everyone due to what it depicts, but it knows more than any other horror satire/documentary I've seen (from the modern era, and for quite some time, that is). If you are a smart movie-goer who likes smart horror films, then you will like this smart movie. It's as simple as that.
Ryan Marshall
Super Reviewer
S&Man Quotes
There are no approved quotes yet for this movie.
Discussion Forum
Discuss S&Man on our Movie forum!