Saam gwok dzi gin lung se gap (Three Kingdoms: Resurrection of the Dragon)
(2008)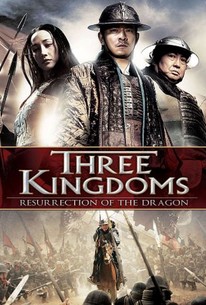 AUDIENCE SCORE
Critic Consensus: No consensus yet.
Saam gwok dzi gin lung se gap (Three Kingdoms: Resurrection of the Dragon) Photos
Movie Info
This sweeping martial arts epic - a co-production of Hong Kong and Korea - stars Asian screen idol Andy Lau as Zhao, a layman caught up in a rising tide of chaotic violence as his country is ripped in half by the blight of civil war. In desperation, Zhao draws from his inner resources and "rises up" against the evil warlord who has caught the nation under his thumb. The young warrior vows to liberate and unify the land, and leads a sizeable army to accomplish this goal. Unfortunately, while his heroism succeeds in itself, it fails to reunify the nation, but a new and peace-seeking king occupies the throne and appoints Zhao to set out once and for all and bring the warlord toppling down.
Critic Reviews for Saam gwok dzi gin lung se gap (Three Kingdoms: Resurrection of the Dragon)
There are no critic reviews yet for Saam gwok dzi gin lung se gap (Three Kingdoms: Resurrection of the Dragon). Keep checking Rotten Tomatoes for updates!
Audience Reviews for Saam gwok dzi gin lung se gap (Three Kingdoms: Resurrection of the Dragon)
This Chinese civil war film is just okay as John Woo's Red Cliff is the best historic war film of the year ever made. This project is based on "Romance of the Three Kingdoms", a vast 600-year-old novel by Luo Guangzhong that ranks as one of China's four most important pieces of literature. In the action scenes between characters are wonderfully choreographed by Sammo Hung himself, but the quick cuts, close-ups, tight shots and dizzying camera work marred it all. The battle sequences were worse, with fake blood splattered all over, and the usual hacking of limbs and demonstration of superhuman strength by its chief characters. I thought Maggie Q was wasted with a flower vase role that took less than 30 minutes of screen time just to snarl nastily, while Sammo Hung really relegated himself to the backseat choreographing the action. Andy Lau, a real life hero, was probably the top draw here in putting bums in seats, but even he can't save the story from having to insert a needless hint at unattainable romance because of Zilong's sense of duty and obligation to serve his country, putting it first before (the starting of) family.
Dean McKenna
Super Reviewer
Three Kingdoms: Resurrection of the Dragon is Daniel Lee's attempt at creating an epic costume style film. Well, this isn't bad, however it is far from epic.
The story, while having a good concept, lacks great writing. I've read a review that mentions this film is like a long trailer. That may be exaggerating just a bit, but there is some truth to this. The first half tends to jump forward a bunch and thus makes the story span decades. By doing this for only the first half of the movie, the depth of the story and characters can only be so much. Thus, when the final half of the film is one long "Helm's Deep" confrontation, it lacks the buildup it needs to make this epic.
Action fans will not be disappointed. There is quite a bunch of fights and while the big battles are nothing spectacular, when zooming in on 1 on 1 or 1 on many, the action gets good. The choreography is nicely done and the battle between Andy Lau and Maggie Q is pretty impressive.
Andy Lau is no stranger to this type of film and he does what he has to do as the lead. Sammo Hung has a good character. He doesn't participate in any of the action, but he is the choreographer and that is why the martial arts fights are good. Maggie Q is one of the big names credited to this picture and her character is a major one in the story, however, other than a 2 second shot at the very beginning, she doesn't make an appearance to almost 2/3rds through this 100 minute picture.
The action is there and so are the settings and costumes. All this movie needs is a little better writing to provide more to the story and characters.
½
A little confusing, and pretty vague. But the action scenes thankfully make up for that.
Jonny Crumley
Super Reviewer
Saam gwok dzi gin lung se gap (Three Kingdoms: Resurrection of the Dragon) Quotes
There are no approved quotes yet for this movie.