Saat yan faan (Murderer)
(2009)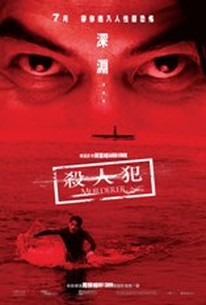 AUDIENCE SCORE
Critic Consensus: No consensus yet.
Saat yan faan (Murderer) Videos
Saat yan faan (Murderer) Photos
Movie Info
Ling Kwong is 40-year-old, self-assured Chief Inspector of Police. He's solved numerous difficult cases on his own, has a flawless track record, and soon, is to be promoted to Superintendent of Police. Everyone sees him as the future head of the Hong Kong Police Force. Ling has a perfect family -- a beautiful, gentle wife, a charming son and a posh lifestyle. In every sense, he is as enviable as he is successful. His perfect life takes an abrupt turn though, when he wakes up after fainting in a dilapidated building, on one of his operations. He wakes to find his short-term memory damaged, and is more shocked to find his best colleague killed in the same building -- BLOODY HOLES all over his body, mercilessly blood-let by an ELECTRIC HAND DRILL! Ling's colleague is the third victim of this series of "blood-letting murders." Using the most inhuman means, this serial killer conjures up for each victim witness his own slow death, in supreme terror and unimaginable pain! The extreme cruelty of the murders appals even the most experienced policemen, and after each killing, the murderer simply disappears and leaves no trace at all to the clueless police. At the height of his life, Ling encounters this most vicious murder throughout Hong Kong's crime history. He must catch the killer at all costs, to avenge his friend's death. But as Ling sifts through the clues of the murders, he finds that all the evidence points toward him as the murderer! The deeper he tries to dig into the truth, the more suspicious he becomes. All this time, Ling's short-term memory continues to desert him. He is losing the last trustworthy piece of evidence -- his memory. Ling is being pushed to the edge of madness! Is he really the murderer -- or not?
Critic Reviews for Saat yan faan (Murderer)
There are no critic reviews yet for Saat yan faan (Murderer). Keep checking Rotten Tomatoes for updates!
Audience Reviews for Saat yan faan (Murderer)
½
Sure it's batshit crazy, but I cannot deny that I didn't find it very entertaining. Great opening scene, though it runs quite long at 2 hours.
Christopher Brown
Super Reviewer
Chow Hin Yeung Roy's Hong Kong crime thriller, Murderer, is something ... and then it's not.
The introduction of this 2 hour production is highly intense and enticing. Not a bad way to start a film. However, it does slow down, but this isn't entirely a bad thing. The story is interesting enough and it gets better as more becomes clear. The few murders are quite gruesome and this leaves one waiting for the conclusion to arrive. Then, the film finally unravels itself.
The conclusion deserves it's own paragraph. The story takes a sharp turn and the final 45 minutes throws the viewer for a loop. A "I can't believe this is happening" loop, which may or may not turn the viewer off. As a whole, this movie is a mixture of Seven, Oldboy, and Memento; yet, the conclusion makes this film feel original in its own twisted way.
Aaron Kwok puts on a good performance, especially in the conclusion. Josie Ho makes a special appearance and the rest of the supporting cast do what they have to do.
Murderer is a tough movie to recommend, but the curiosity of many will be aroused from all the reviews. Let this be a warning and take a chance.
Saat yan faan (Murderer) Quotes
There are no approved quotes yet for this movie.
Discussion Forum
Discuss Saat yan faan (Murderer) on our Movie forum!