Sacrifice
(2012)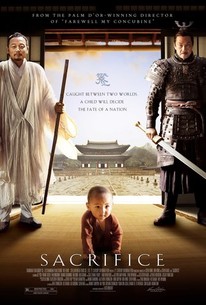 Movie Info
A story of epic revenge, Sacrifice focuses on a power hungry general who wipes out his rival along with his entire family, save for one newborn. The infant is protected by the doctor who delivered him and raises him as his own, hoping to mold him into his own instrument of retribution. -- (C) Samuel Goldwyn
Rating:
R (for some violent content)
Genre:
Directed By:
In Theaters:
Box Office:
$27,899.00
Runtime:
Studio:
News & Interviews for Sacrifice
Critic Reviews for Sacrifice
Audience Reviews for Sacrifice
½
To make a long story short, Tu Angu(Xueqi Wang) pulls off the perfect murder by not only murdering the grand councillor and getting away with it, but also framing the Zhao clan, condemning every last one of them to death. That is with the exception of the one just delivered by Cheng Ying(You Ge). In the following confusion, that baby gets confused with Cheng's. After which, Cheng's wife, son and a couple of other people die but the infant Xhao makes it out of there alive, as Cheng raises him as his own, waiting for the day when he can tell him the truth. To its credit, "Sacrifice" seeks to intelligently explore such important themes as loyalty, family and identity in a handsomely produced format. So, it is a shame that the movie is so very awkwardly edited. First, there is the set-up that pretty much goes on forever, with its focus on soon-to-be irrelevant details of court politics and even might double back on itself at one point. And then after that, the movie just sort of sits there, endlessly dragging towards its obviously painful conclusion and therefore wasting any kind of dramatic potential in the bargain.
½
A heart-wrenching, and brilliant story, with incredible acting. For drama lovers, not action lovers...even though there was plenty enough of that for me, too. I had no idea that this was directed by the same man (Kaige Chen) that was responsible for The Emperor and the Assassin, and Farewell My Concubine...both excellent movies. No wonder I enjoyed this so much. :)
Cynthia S.
Super Reviewer
You don't yet know the meaning of a life worse than death. The Zhao family is massacred leaving only their leader's infant son to escape. The attackers hunt down every child in the city and threaten to murder them all if the child isn't returned to them. A man sacrifices his own child so that his wife can escape the village with his leader's child. As the son grows up, will he obtain revenge for the death of his family or be absorbed into the clan that killed his family? "Remember this advice, don't trust anyone." Kaige Chen, director of Farewell my Concubine, The Promise, The Emperor and the Assassin, Together, and Temptress Moon, delivers Sacrifice. The storyline for this picture is very intricate and well delivered. The characters are dynamic and epic in a lot of ways and the acting is fairly good. The cast includes BingBing Fan, Wenzhou Zhao, and Xueqi Wang. "Exterminate his whole clan." Sacrifice is a movie I came across while flicking through Netflix and had to see. I will say the overall premise and execution of this film is fairly good. This isn't as good as Hero or Warlord but it is well told and just a notch below Twilight Samurai. I recommend catching this movie once but wouldn't add it to my DVD collection. "A man who would betray his own child scares me." Grade: B
Kevin Robbins
Sacrifice Quotes
There are no approved quotes yet for this movie.