Sad Movie
(2005)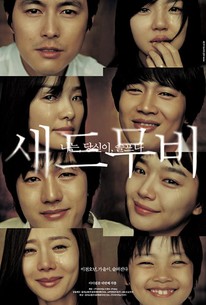 AUDIENCE SCORE
Critic Consensus: No consensus yet.
Movie Info
Several couples struggle with their relationships.
Rating:
NR
Genre:
, ,
Directed By:
In Theaters:
Runtime:
Critic Reviews for Sad Movie
There are no critic reviews yet for Sad Movie. Keep checking Rotten Tomatoes for updates!
Audience Reviews for Sad Movie
With a title like 'Sad Movie' you would expect some type of teary moment or epic heart break or something along those lines. They are not to be found here. I found this film actually quite entertaining even though I would admit some of the chemistry between the characters didn't work. It's a korean ensemble film along the lines of "love actually." Of course love actually is the better film, but Sad movie has enough charm, wit and lighthearted fun for anybody who's just in the mood for a feel good movie even though it lacks actual tears.
Tracy Williams
As the title states, you will be sad by the end, and probably cry your little eyes out like I did. But the difference between this movie and any other weepy chick flick out there is that you feel for these characters...you root for them. The movie plays like a comedy drama for the first 2/3 which almost makes you forget the movie is indeed titled "Sad Movie" It is one of the most heartbreaking, wonderful movies I've seen in awhile, even if it is a little over the top. And I mean come on, if you are going to choose to watch a movie with this title, you know you want to cry...and this one will give you what you want...
Diana Lynn
½
Talk about a movie that completely lives up to its name. Sad Movie is one of the saddest movies I have ever seen. The plot follows 4 relationships: a mother and her son, a girlfriend and her boyfriend, a couple recently separated, and a deaf girl and her crush on a painter. Similar to movies styled in the format of the British romantic comedy Love Actually (2003), the movie never lets you look into a character life for more than 10 minutes. This could be seen as both a good and bad thing. The good thing about this style is that it is fast-paced and each character's story leaves off at the exact moment you want to see more, which is a good thing for the movie because it keeps its viewers wanting more. The bad side to this that can be argued is that it doesn't develop the characters nearly as well as some would like and it doesn't give you a whole lot of background information. You also have to remember what was going on where the movie last left off with a character's situation, which can also get confusing for some. However, if you can get past all that, this modern Korean drama is beautiful to watch unfold. Each character finds a way to yank and pull at your heart strings, and once it's all said and done and you've had a good cry, a sudden happiness will fall upon you when you realize your life is nothing like theirs. I absolutely adored this movie. I would watch it over and over again. However, if you're looking for that "happily ever after� feeling you got from Love Actually, this isn't the movie for you.
Jenny Nulf