Sadie Thompson
(1928)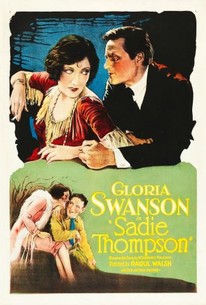 Movie Info
A fugitive prostitute finds romance and redemption on a South Seas island.
Rating:
NR
Genre:
, , ,
Directed By:
Written By:
In Theaters:
On DVD:
Runtime:
Studio:
Kino on Video
Critic Reviews for Sadie Thompson
Audience Reviews for Sadie Thompson
The version that I saw was crackling with wear and took me out of the film a bit I'm afraid. Gloria Swanson who is so terrific in Sunset Boulevard doesn't quite measure up here.
John Ballantine
Super Reviewer
½
the first adaptation of maugham's famous story, the film stars gloria swanson and director raoul walsh as well as an over the top lionel barrymore as the self appointed moral authority of the islands. swanson was nominated for an oscar here and walsh is terrific as the marine who falls for her. great screen presence! his acting career ended shortly after this when he lost an eye to a fateful jackrabbit through the windshield encounter and became the first of hollywood's dashing eye-patch wearing directors
Stella Dallas
Super Reviewer
½
After seeing Sunset Boulevard a while back and being thoroughly impressed by Gloria Swanson I wanted to see some more of her work. She was most famous for her silent pictures and this was the silent picture for which she received the best actress nomination. The film stars Gloria Swanson who plays a woman named Sadie Thompson. Sadie Thompson was from San Francisco (probably a prostitute in San Francisco) and takes a ship to Pago Pago to try and start a new life. There, she meets an over-zealous missionary (played by Lionel Barrymore - the great uncle of Drew Barrymore) who tries to get her to repent for her sins. She meets a man who wants to take her to Australia, but the missionary wants no part of that. The plot isn't really all that complex and takes place in pretty much once location. My main complaint with the plot is that Thompson's attitude seems to flip-flop several times with little explanation during the end of the film but other than that the plot is good. This film is the first silent film I've seen where I really noticed the acting in any meaningful way. While Swanson did not impress me in this film nearly as much as the talking picture Sunset Boulevard, this performance was still quite memorable. Swanson made me care about Sadie Thompson. Lionel Barrymore's performance as the missionary was also quite good. As the film progressed I hated him. Unfortunately, the final reel of this film is considered lost so the dramatic conclusion is not presented in video but rather still photographs from the missing scenes and excessive intertitles. While not completely distracting, it is quite unfortunate as it made the ending a little less dramatic than it should have been. Only a very small percentage of silent films exist in any form today so it is quite fortunate that this film, or at least the vast majority of it, still exists. Overall, this was a pretty good film although it was far short of the nearly perfect Sunset Boulevard. Swanson's performance was the most memorable bit of silent acting I've ever seen. For those that have seen and liked Sunset Boulevard and are not afraid of silent films, this is probably worth checking out. Most people won't even consider watching silent films so I would only recommend this to those that do as this is not the best silent film to make your first. 80/100 B- UP NEXT: Back to talking pictures with Alfred Hitchcock's I Confess.
Ryan Donahue
Sadie Thompson Quotes
There are no approved quotes yet for this movie.