Safe in Hell
(1931)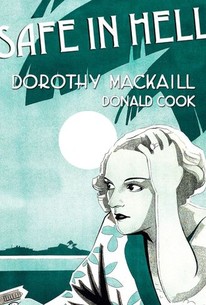 AUDIENCE SCORE
Critic Consensus: No consensus yet.
Movie Info
In this grim adult drama, a whore blames herself for the death of one of her dates after she and the client have a fight and she starts a fire. Later a sailor finds himself attracted to her and takes her to a safe tropical island filled with fugitives. All of them begin to eye her. It is there that she sees the man she supposedly killed. This time she kills him for real. As she slowly walks down death row at the story's end, she repents.
Rating:
NR
Genre:
Directed By:
Written By:
In Theaters:
On DVD:
Runtime:
Studio:
Warner Bros. Pictures
Critic Reviews for Safe in Hell
All Critics (3) | Fresh (3) | Rotten (0)
...imagine Casablanca as a lice-infested backwater run by mercenary opportunists and filled with the sleaziest criminals to escape a manhunt.

Contrary to the implied theology of its title, 'Safe in Hell' depicts a hopeless, godless world in which man -- and especially woman -- is just another morsel of meat on the food chain.

Commercial Appeal (Memphis, TN)

Ozus' World Movie Reviews
Audience Reviews for Safe in Hell
Safe in Hell (William A. Wellman, 1931) William Wellman was notorious for loving the ladies off camera and hating them on. He was also notorious for bullying actors of both sexes until they simply gave up and did what he wanted in the way he wanted it when he wanted, no matter how incomparably wrong he may have been. You can see how low these twin afflictions could make Wellman sink in Safe in Hell, today one of Wellman's most obscure releases. There's a good reason for that. Gilda (The Office Wife's Dorothy Mackaill, whose career pretty much ended with the enforcement of the Hays Code) is a prostitute in New Orelans. She kills an ex-boyfriend in self-defense, but who's going to take her word for that? So she enlists the help of another old friend, Carl (The Public Enemy's Donald Cook), who whisks her out of the country and sets her up in a seedy hotel on a Caribbean island. She's safe from the American law there, but immediately becomes the enamored of every guy there, from the corrupt police chief (Murder, My Sweet's Ralf Harolde) to the local drunks. Having promised fidelity to Carl, who's posing as her husband, she tries to remain chaste and sober while he's away at sea, but it's awfully tempting to go back to her old self... When you had an actress who was capable of standing up to Wellman, like Barbara Stanwyck in Night Nurse or Ruth Chatterton in Frisco Jenny, that particular synthesis made for a solid, strong heroine equally capable of charming the teeth off anyone else in the film and eating nails. Mackaill, on the other hand, is something of a shrinking violet-or was when dealing with Wellman-and what we end up with is a doormat, and not a very interesting one, either, who's willing to do whatever's necessary to keep her man safe. But it's not just that she's playing the doormat, it's that everyone else around town is perfectly okay with her playing the doormat; if she's going to be nothing more than a sex object, well okay, let's treat her like one! (There's one marginally infamous scene where Mackaill is ascending the hotel staircase and the town drunks are trying to see up her dress that is, in fact, synecdochic of every male in the film's attitude towards her the entire time.) To say this is not Wellman's finest work would be something of an understatement. I can't make a claim to having seen anywhere near all of Wellman's eighty big-screen features, but of those I've seen, this is easily the worst. Unless you're a Wellman completist, you can ignore this one entirely. **
Robert Beveridge
½
MacKaill is a prostitute who, thinking herself responsible for the death of a client, flees with the aid of her lover to a remote caribbean island. From the opening shot of MacKaill lounging in her underwear you know you're in pre-code territory. Having your leading lady employed in the world's oldest profession would be impossible for a film-maker a couple of years later. Wellman makes use of his limited window to give us one sweat drenched sleaze ridden movie. The unnamed island is a sort of pre-code, low budget Casablanca setting, filled with a wonderful assortment of misfits and slimeballs. Five scurrilous rogues stay in the same hotel as our heroine and each one tries unsuccessfully to get his sweaty palms on her. There's a wonderful moment when, waiting for MacKaill to come down for breakfast, each man turns his chair to face the staircase as if awaiting a cabaret performance. MacKaill spends the first few days fending off their advances and hiding in her room. Unbeknownst to her though, the local hangman, Wallace, has been intercepting money sent to her by her sailor boyfriend, forcing her to eventually start cosying up to the rogues. The landlady, singer McKinney, informs her the rent is due soon, and this being a pre-code flick, we know exactly where it will lead our heroine. Many of these pre-code dramas are reminiscent of film-noir but with one major difference; in the later genre our male leads usually ended up down and out or dead at the hands of a woman, with these movies it's the opposite. This has a particularly downbeat ending which preempts the noir genre by a good decade. Amid all the darkness though there are some comic touches, especially in the desperate actions of MacKaill's would be suitors. McKinney even gets a chance to show her crooning skills with a rendition of "When It's Sleepy Time Down South". Barbara Stanwyck was considered for the lead role but Wellman favoured British actress MacKaill who starred in several tawdry dramas at the time. She would become a victim of the code sadly, as the studios associated her with the immorality of the pre-code days and this cost her many roles.
The Movie Waffler
Super Reviewer
A lean, well scripted melodrama about a prostitute who escapes to a Caribbean island populated by criminals after accidentally killing a client, where she's the only white woman there. Most of the criminals are used as comic relief in an otherwise very bleak film. Not much I can say except that Mackaill was really good and that it doesn't settle for anything less than a heartbreaking ending.
X. T. C.
Safe in Hell Quotes
There are no approved quotes yet for this movie.