Better Watch Out
(2017)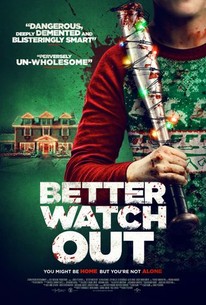 Movie Info
This holiday season, you may be home, but you're not alone... In this fresh and gleefully twisted spin on home-invasion horror, babysitter Ashley (Olivia DeJonge) must defend her young charges (Levi Miller, Ed Oxenbould ) when intruders break into the house one snowy night--or so she thinks.
News & Interviews for Better Watch Out
Critic Reviews for Better Watch Out
Audience Reviews for Better Watch Out
½
To be perfectly honest, it's very rare that a film is able to keep a secret from its audience without them guessing it earlier. Nearly everything has been done numerous times throughout cinema, so the element of surprise is sadly lost throughout the majority of film these days. Better Watch Out is a film that finds a way to differentiate itself from the predictable, becoming one of the most enjoyable horror films I've seen in a while. Although I'm going to pretty much praise this movie from start to finish, it's not for everyone. In fact, this movie will probably only please a very small audience, so this is going to dive into the movie itself and what makes it good, rather than gushing about how awesome it may be, which will inevitably let quite a few people down. Here are my thoughts on why Better Watch Out is a great addition to the horror genre, and why many viewers should be wary before viewing. We've seen films about kids who think their babysitters are beautiful and have an insanely large crush on them. It makes for some good comedy, so I'm surprised that more films haven't used that as a plot point, but that's not really what this movie is about. Quite honestly, the plot itself is a spoiler, so I'll keep it simple by saying that young Luke is left home alone with his babysitter and before you know it, everything you think you know is false and things really start to hit the fan quickly. Better Watch Out maintains a pace that will satisfy many viewers, but the plot of this movie will most likely anger certain audience members. I found myself cringing at certain elements, wondering how I could possibly be enjoying what was unfolding in front of my eyes, but this movie is made in such a way that just ends up being applaudable. Most people who view horror films are ready for anything, or at least should be. In terms of restricted horror movies, you should be well aware that there will be some scenes involving some pretty risqué scenery. From children swearing, to visible murder, Better Watch Out (although very restrained) goes for quite a few gutsy actions. Like all horror films, you should be ready for anything, but in terms of what's shown on-screen, this movie really doesn't overdo it in terms of gore. There are films that rely on gore to sell the movie, but Better Watch Out only shows it when the story requires it to, which was a nice change of pace in comparison with the majority of horror films nowadays. With the combination of restrained gore and the addition of solid cast, I can see horror fans getting a kick out of this movie. Starring Olivia DeJonge and Levi Miller, these to performers played off of each other in a fantastic way. I found myself believing most of everything they were saying to each other, even if there are admittedly some pretty cheesy lines of dialogue (but I think that was intentional). Levi Miller's portrayal of Luke is something that will always annoy me because the character himself is crazy, to say the least. Although these two leads were great, the standout to me was Ed Oxenbould. The best friend of Luke and the much more mature one of the two young boys, his character is truly the one to connect to when having to follow these lead characters. This film is strange when it comes to its characters though, because the ones you truly care about are the ones that hardly get any screen time. I don't think I've said that about another movie all year, so at least it went for something different. In the end, Better Watch Out is a little too cheeky to be called a horror classic in the years to come, but I can see a cult following for this film continuously building through the years. I had a blast watching this movie from start to finish. You may hate yourself for sitting through certain things and just having to be okay with it, but this is something very different than anything that a mainstream horror film would have the guts to do. If you're up for anything and can follow characters whether or not you have to accept that they're either good or bad people, then I can't recommend this movie enough. It's a fun watch on either Halloween or Christmas, so that's another plus. This is a really solid horror flick that goes from zero to ten in a matter of seconds and it's a great result as a final product.
HAPPY HANEKE - My Review of BETTER WATCH OUT (2 Stars) Having been born a Jew, I'm no expert on Christmas. Hell, I'm no expert on anything Jewish either, having never studied or practiced the religion I was born into, so don't count on my expertise when it comes to holiday themed films. I've never been a fan of IT'S A WONDERFUL LIFE or MIRACLE ON 34th STREET. The sound of sleigh bells and the red/green color combo send me on a retreat to the nearest deli for anything on rye, and I'm a bad Jew! My love for these movies begins and end with A CHRISTMAS STORY, because, well...leg lamps and frozen tongues. Now, the home invasion thriller...that's a genre I can really get behind. Nothing chills me to the bone more than a person standing outside a door in the middle of the night (THE STRANGERS), a blind woman facing off against intruders (WAIT UNTIL DARK), or two polite teens slowly but surely terrorizing a family (FUNNY GAMES). That last one, by the great Michael Haneke, turned this type of film on its ears, commenting on the audience's participation in violence and subverting its expectations. Enter BETTER WATCH OUT, a Christmas thriller, from director Chris Peckover and co-writer Zack Kahn, which aims to subvert the genre with its unlikely marriage of HOME ALONE to FUNNY GAMES. Twelve-year-old Luke (Levi Miller from PAN) gets left at home for the evening by his parents (fun cameos by Virginia Madsen and Patrick Warburton). His cute, smart babysitter, Ashley (Olivia DeJonge of THE VISIT) will take care of him, but Luke has such a crush on Ashley that goes far beyond "watching Netflix and chill". Egged on by his best friend Garrett (a scene-stealing Ed Oxenbould), Luke intends to put the moves on his prey, who's five years his senior. Like any popular young woman, Ashley barely knows Luke's alive as she tends to her phone with texts and calls from her boyfriend and her ex. She's an astute multi-tacker and a pretty good critical thinker. As Luke starts to put the moves on Ashley, an intruder disrupts his plans, leading to a night of terror. I won't spoil what comes next, because this film has a pretty great twist, showing it has more on its mind than strangers disrupting suburban bliss. BETTER WATCH OUT explores smug male entitlement, even as early as a scene where Warburton puts the moves on the babysitter. From there we get male rage, male sociopathy, and male...well, males are just bad if you haven't heard! We ruin everything! For me, however, BETTER WATCH OUT, for all of its ambitions, doesn't quite land. Maybe because it feels like FUNNY GAMES without the true sense of dread. It feels more like a genre exercise rather than a singular triumph. As the tension mounts, our main characters talk and scream too much for people who are trying to hide from a killer. Peckover clearly loves film and knows his jump scares and creep-outs. It's swiftly moving, twisty-turny, colorful, violent, and wickedly fun at times. It makes you question everything that's good and wholesome about the holidays, but its shiny tone keeps you from feeling the impact when things get bloody. Luke comes across as an even more enterprising main character than little Kevin McAllister as he sets one life-threatening booby trap after another, but in the end, it all feels a tad toothless. I kept wanting the post-twist footage to look darker and grittier, but Peckover maintains the same overfit palette throughout. It's almost like a Hallmark movie with a body count. A shot of blood mixing together with yellow paint got a laugh, because it looks like catsup and mustard instead of the real thing. The film looks like it was shot in a studio (which it was, in Australia), giving it a similar gloss to that of KRAMPUS. It's intentional and entertaining, but I didn't feel the dread as I did with FUNNY GAMES. It's Soundstage Realness. Had he instead opted for true terror in an increasingly real-looking environment, the filmmakers would have had a solid Holiday horror classic on its hands. Instead, it's going to please fans of the genre, but it's not going to make the list that I check twice. It has all the elements of an effective thriller, and it truly is trying to say something about the male ego, but it just didn't get under my skin. I'm probably just a Bitter Betty here, and I fully expect to be called a Scrooge. To that I say, "Bah humbug off my lawn!"
Glenn Gaylord
Super Reviewer
Better Watch Out Quotes
There are no approved quotes yet for this movie.