Safe Passage
(1995)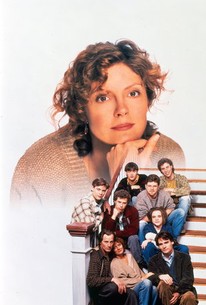 Movie Info
A family endures a reunion caused by possible tragedy in this intense family drama. Mag Singer is the mother of seven boys, all but one of whom are grown. She is suffering from "empty-nest syndrome." She wonders; is there life after motherhood? Her husband Patrick, an inventor has a stress affliction that occasionally causes temporary blindness. He has withdrawn from her and lives in his office. One night Mag dreams that one of her son's is in danger. The next day she learns that Percival may have been killed when terrorists bombed his Marine barracks at his station in Sinai where he was part of peace-keeping forces. The family comes together during the waiting period. It is at this time that the family problems are gradually aired.
Rating:
PG-13
Genre:
,
Directed By:
Written By:
In Theaters:
On DVD:
Runtime:
Studio:
Turner Home Entertainment
Critic Reviews for Safe Passage
Audience Reviews for Safe Passage
(a rough draft, written for The Watermark, 01/21/95, but not published) In Safe Passage, Susan Sarandon and Sam Shepard are parents who receive the unwelcome news that one of their sons who is a Marine in the Persian Gulf may have died in an unexpected explosion at his Marine base. Their other six sons all return home to await the news from Washington as to whether he is a casualty or a survivor. While the family is back under one roof and facing the possibility of losing one of their own, they all must face their past as a family unit, and their own scattered relationships as individuals. What is so well conveyed in Safe Passage is the fact that it focuses on the trivial - waiting - while always remaining interesting and well structured in its "everyday" feeling in the dialogue, the situatons, and the camerawork. The laughs in the film occur only where situations call for it, such as Sarandon and Shepard arguing at top volume over whether the church in which they were married was the Chapel of "Harmony" or "Bliss." More impressively is that nothing is heavily contrived, and no conflict is forced to keep the film moving: lesser films would have involved more petty bickering among the brothers and the parents. One sequence, where they all clean out the garage, is marvelous both in its release of nervous energy and in its symbolism of the dumping of the family's "baggage" which we see taking place in the film. Another brilliant moment is a shot of their TV screen and the news reporting on the explosion, and the TV is switched off to show the reflection of the entire family in the screen - all together as one unit, focused on one goal. The real craft of such a "realization" film as this is that it has no lustrous Hollywood quality to it. If it had tried to pass off that all of this family's problems can be solved within a three-day period, it would have bordered on melodrama. One plot device, where Shepard inexplicably has spells of blindness, is pleasantly surprising in its resolution, and has a nice humility about it. What we are left with instead is a positive feeling about this group, and a sense that the past two hours have at least started them on the right path to correcting their problems. The film's end, when they finally get the news about their son, is where the film shows whether or not it has succeeded: Are we as emotional as the family? Do we cry with them? Do we care? The answer is yes, and no audience member can say she or he didn't feel like a member of the family and that you have lived through this crisis with them.
David Almeida
Good because of the acting. Nothing really happens in this movie, it's a great deal of waiting, which I understand is the point but in this case is not compelling enough.
Sunil Jawahir
Super Reviewer
Susan Sarandan is one terrific actress, and she does an awesome job in this film. A young Nick Stahl also stands out. He is not very recognized as an actor, but I think will make it big. Good story, score and direction.
James Higgins
Safe Passage Quotes
There are no approved quotes yet for this movie.
Discussion Forum
Discuss Safe Passage on our Movie forum!