Saint Rita
(2004)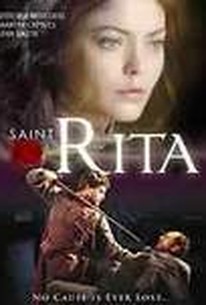 AUDIENCE SCORE
Critic Consensus: No consensus yet.
Movie Info
Vittoria Belvedere stars in this moving Italian-language biopic about the remarkable life and work of Rita of Cascia, a wife and mother of two who later became a devoted nun and the patron saint of hopeless situations. In the wake of a tumultuous tragedy that saw her husband murdered and her two sons dead before their time, St. Rita embraced a life of faith and found her new calling as a servant of God.
Critic Reviews for Saint Rita
There are no critic reviews yet for Saint Rita. Keep checking Rotten Tomatoes for updates!
Audience Reviews for Saint Rita
I came to the movie, RITA, ignorant of much of the life of St. Rita. I'd read some information about her just to be familiar enough to tell our customers briefly about her if they asked. Movies are not the best way to learn about people, but they can light the fire of interest and make us dig deeper. Rita does this to a certain extent. It begins with her as a young adult, who has a deep spiritual life, and it overflows into her works of Charity at the local monastery. There she is known for her herbal and natural remedies for many ills. Her friend enters the monastery, and Rita comes into contact with her friends brother. There we see the outline of their courtship, and growth of love. This happens in a town burdened by murders and inter-family wars for control. It becomes clear as the movie progresses that there is nothing new under the sun, and what we are viewing is organized crime in its early incarnation. Gradually, Rita becomes aware her husband is totally involved in this crime family, and is, in fact, a hitman. We see her confrontation of him and with her Christian witness to the the sinfulness of his lifestyle, she eventually converts her husband, who leaves "the family" and the large family home, to live the simple honest life of a miller. There in the small house and mill, they raise their two sons. Crime continues without him, but eventually he is lured back into the family business after the murder of his brother. His Christian convictions, however, keep him from truly returning, and he leaves once again, racing back to Rita. The anger felt by Rita's in-laws because of her influence over her husband, comes back to haunt her life, when they take her children from her to train them in the business of murder. We see Rita searching amid plague-ravaged towns for her boys, until she finds them on their death beds. The movie portrays Rita as a grief-stricken mother and widow who has what today we would call a breakdown. She eventually finds her way back to daily living by rediscovering the Charity in her own heart. This leads to the reconciliation of the warring families and to peace in the town. The movie is, I believe, an excellent teaching for today. Given the long history of organized crime, here we see the only real solution--a total conversion of the heart to living a life of Love. In the movie we see the rationalizations that allow for murders as vendetta, and how such murder is not even considered sin. There is a startling lack of Church presence in this movie, other than the minimal presence of the abbess of the monastery and the friar who advises her against accepting Rita into the convent life because of her family ties, which are dangerous for anyone connected to her. His advice speaks harshly of the lack of spirituality on the part of the Church regarding the reasons for refusing Rita entrance into religious life. However, we do not see any attempt on the part of clergy to address the criminal culture, or advise Rita directly regarding her effort to convert her husband. Only the abbess advises her, telling her to be faithful to her marriage vows. Perhaps the lack of Church presence in the story we see is good, as it focuses us on Rita's own convictions, yet it is not believable given the era. We do see the Church involved at the end, but only as a witness to reconciliation, instead of a silent witness to crime. My biggest disappointment in the movie was in the lack of attention given to Rita's 40 years in religious life, where her spiritual life deepened. The movie focussed only on the drama (naturally), and little on the profound innser spirituality of this saint, particularly as it matured in later life. That, in my opinion, makes it less of a spiritual movie than it might have been. But, it will be more appealing to the majority of those looking for a "modern" story because the first part of her life is a very real example of how one woman can influence her own family, and her neighbors with the love of Christ. It's a good family picture. It teaches the bottom line, Christ or sin, that is the choice we all have, and no amount of rationalization changes that for anyone. I think Italian families will enjoy this movie as it is done in Italian, with English subtitles, and Rita is much beloved by Italian Catholics, with good reason. But it's a movie for all of us who must make choices between good and evil in life. My suggestion is to watch it in Italian even if you don't understand Italian. The English voice over loses a good bit of the spirit of the actors. After the movie, get a good biography for the facts! In the meantime, get the popcorn going!
Cait Finnegan
Saint Rita Quotes
There are no approved quotes yet for this movie.
Discussion Forum
Discuss Saint Rita on our Movie forum!