Saint Joan
(1957)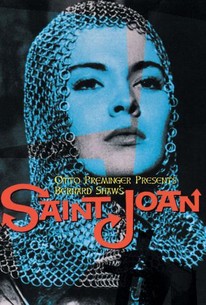 Movie Info
After an extensive talent search, producer-director Otto Preminger selected a 17-year-old unknown from Iowa, Jean Seberg, to play Joan of Arc, a role traditionally portrayed by actresses twice to three times Seberg's age. Seberg is cast opposite such venerable pros as Richard Todd (as Dunois), Anton Walbrook (the Bishop of Beauvais), John Gielgud (Earl of Warwick) and Felix Aylmer (The Inquisitor). Cast as the vacillating Dauphin is Richard Widmark. Graham Greene's screenplay refashions the original Shaw text in the form of a flashback. Seberg eventually became an accomplished actress by virtue of her appearances in such nouvelle vague films as Breathless, but it was too late to salvage Saint Joan, which was figuratively burned at the stake by critics and filmgoers alike. ~ Hal Erickson, Rovi
Critic Reviews for Saint Joan
Audience Reviews for Saint Joan
½
Mr. Preminger, his scenarist and his cast, who obviously were serious in tackling an important drama, have only fashioned a series of dissertations on an important theme.
Greg Wood
½
Even though I couldn't understand much of it (because of my non-existing historical knowledge about Joan of Arc), I found this one pretty suspenseful and enjoyably. Great acting, photography and music.
½
This version of Joan of Arc is adapted from the George Bernard Shaw play, unfortunantely it doesn't work 100% in it's adaption to the screen. Jean Seberg takes the role of Joan. Seberg looks great and does a fare job seeing as she has little action to work with. The story is told in flash back and basically consists of two acts (based on the original acts of the play). The first act being the events of crowning the Dauphin and leading the French army at Orleans, and the second Joan's trial and execution. The main problem I found with this is that there is so little action, just when you think that something exciting is going to happen, like the battle at Orleans, it fades to black and switches to scenes after the event. This is a fairly enjoyable film, with a good cast, but there are superior movie versions of the story.
Saint Joan Quotes
There are no approved quotes yet for this movie.
Discussion Forum
Discuss Saint Joan on our Movie forum!