Saints and Soldiers
(2004)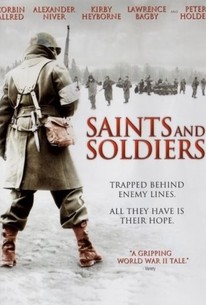 TOMATOMETER
AUDIENCE SCORE
Critic Consensus: While it draws heavily on war movie conventions, Saints and Soldiers has strong performances and a compelling central plot.
Saints and Soldiers Videos
Saints and Soldiers Photos
Movie Info
Based on the historical event known as the "Malmedy Massacre, " this is the tale of a group of American soldiers in Germany in World War II, one of whom served a mission for the Church of Jesus Christ of Latter-day Saints in Germany just before the war. In mid-December 1944, Hitler's Army blitzkriegs through the Ardennes Forest into Belgium, creating the colossal wintertime offensive known as the Battle of the Bulge. Sergeant Daniel Epstein and close friend Nathan Greer find themselves held captive with more than 70 other American Soldiers in a snow-covered field. Without warning, German soldiers open fire on the American prisoners. Epstein, Greer and a handful of other soldiers are able to escape the massacre by hiding in the nearby woods. Without weapons or food, they take on the unforgiving winter trying to find their way back to Allied-occupied territory.
Rating:
PG-13 (for war violence and related images)
Genre:
,
Directed By:
Written By:
In Theaters:
On DVD:
Box Office:
$1,004,940.00
Runtime:
Studio:
News & Interviews for Saints and Soldiers
Critic Reviews for Saints and Soldiers
Audience Reviews for Saints and Soldiers
½
"Why another WWll film? Hasn't it all been done, all been said? What's the point?" And so I wondered while watching until, despite the less-than-experienced and sometime cliched delivery from some B-list outfit, a story emerges that asks some interesting questions. Although it never leaves the enormous footprints of those that have gone before, like the voice of a child ("what did lil Mikey just say?") it does come around to make some worthwhile points. The cast, the script, the tech, never overblown, does well in maintaining our interest until that happens. Two thumbs up.
Kevin M. Williams
Super Reviewer
Trapped behind enemy lines. All they have is their hope. Good movie. This film was not bad at all. It has some pretty good acting roles and the story was decent enough to entertain. There was one goof I noticed and that is that when the solders exhale on winter snow the smoke from there mouths didn't showed at all during the whole movie which is pretty messed up. The movie opens as the Allies discover the bloody remains of the Malmedy Massacre. We soon learn how the Germans attacked the unarmed prisoners, killing most of them. Several of the soldiers escape and hide out in a bombed-out house. There's "Deacon" (Allred) the ex-missionary who is haunted by something from his past that prevents him from sleeping for days at a time. He's also a crack rifleman. Joining him in escaping are Gould (Polinsky), the medic and a boy from Brooklyn, who seems suspicious of everyone, "Shirl" (Bagby) a tough soldier from Louisiana with a lust for killing Germans, and Sgt Gunderson (Holden) from Chicago, who takes command of the group. With the rescue of a British pilot, Winley (Heyborne), the group is complete. The obvious distrust/dislike between Winley and Shirl causes friction, but when the group finds out that Winley holds vital intelligence that will greatly aid the Allies in the ongoing "Battle of the Bulge", they agree to get him across 20 miles behind enemy lines to army intelligence. Several close encounters with Germans ensue. Deacon's psychosis continues to escalate as his visions intensify. We find out that in a recent skirmish, Deacon accidentally killed 2 woman and 6 children while trying to take out a sniper. We get to learn more about the lives of the soldiers and in one telling scene, the deep religious feelings of Deacon and contrasted with the agnostic Gould as each of them tells the story of holding a dying soldier. The men stumble upon a remote house occupied by a French woman and her child. They are warmly welcomed by the woman who provides them shelter and food. A massive winter storm slows the group as they hole up at the woman's place. Winley tries to to take off alone and a German patrol soon shows up at the house. The soldiers attack the Germans while the sharp-shooting Deacon misses an escaping German at point blank range twice. The German is caught by Winley and returned to the group. As they argue about whether they should execute the prisoner, Deacon recognizes him as a German he once encountered in his missionary work. He attributes his missing the escaping German to a divine intervention. During the night, Deacon allows the German to escape in exchange for some information about troop movements. The soldiers leave the next morning but Gunderson is shot and killed by a German patrol. A full scale fight ensues and Winley is wounded. Shirl is shot carrying Winley to safety and the two finally make peace just before Shirl dies. The three survivors are approached by a German soldier as they try to revive Winley. It turns out to be the same German that Deacon had let escape the night before. He allows them to escape and they grab an abandoned jeep and head toward the Allied lines. Disguised as German medics with a wounded soldier, they work through their way through the German lines. The Americans, thinking they are German begin shooting at them and the Germans are firing at them from behind as well. Deacon tries to hold off the Germans while Winley escapes with Gould, but is shot and killed in the fire fight. His dying vision is of the family he accidentally killed. Winley and Gould make it to Allied command and the critical information helps stop the German's offensive leading to an Allied victory in the Battle of the Bulge. Gould finds Deacon's body and takes his Bilble, thanking Deacon for saving his life.
A warfare penned in a very usual way, and there could have been numerous events 'based' on the given premises. A preachy flick with a generous amount of cliches in it. Given all things, the movie didn't bore me and I liked it reasonably.
familiar stranger
Super Reviewer
Saints and Soldiers Quotes
There are no approved quotes yet for this movie.
Discussion Forum
Discuss Saints and Soldiers on our Movie forum!