Sal
(2013)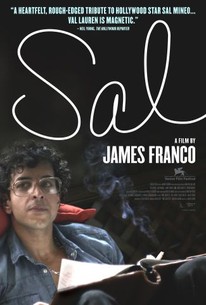 Movie Info
James Franco's Sal chronicles the final day in the life of actor Sal Mineo (Val Lauren), 1950s teen idol and an Academy Award (R) nominee for his roles in Rebel Without a Cause and Exodus. Almost two decades later, Mineo is no longer the marquee sensation he had once been - but he has become open about his homosexuality and is finding his way to becoming the actor and director he has always wanted to be. Featuring a magnetic performance by Lauren, Franco's intimate portrait finds the human details in a larger-than-life Hollywood story. (c) Tribeca
News & Interviews for Sal
Audience Reviews for Sal
For better or worse, James Franco has done exactly what he promised with "Sal", a look at the actors last day before being murdered outside of his West Hollywood apartment building. The downside to this is that we get long scenes that portray the mundane and uninvolving moments of the day. But, some of those moments come across as more real because of this. Good performances help, as does some authentic sounding dialog. This could have turned out terrible, but it could have been a lot better as well.
Steve Smith
½
I actually know quite little of twice Oscar nominated actor Sal Mineo -- other than his acting -- who starred in such films as Rebel Without a Cause, Exodus, Giant and The Longest Day. I was hoping that a film titled Sal might provide some additional information on the one-time star who arrived on the Hollywood scene with many lauded performances and much fanfare but whose star quickly descended as he became typecast and his open homosexuality prevented him from getting many leading man roles in the mid-to-late 1960s. James Franco directs this small film about the late actor and while it is apparent Franco wanted the film to be a tribute to Mineo there is little here one would be overly pleased with. Franco uses too many close-ups, he is obsessed with the male body -- the film opens with an overly long sequence of Sal (Val Lauren - Interior Leather Bar) working out shirtless and sweaty -- and there is simply no real story here at all. Sal is simply a filmed composite of the actor's final day of life ... he wakes up, works out, meets up with someone for lunch to discuss business, rehearses a new play etc. An audience never gets to discover who Sal is or dive into his personality or being. We see him move around and hear him talk (in close-up). There are a few -- like three too many -- scenes of Sal driving a car listening to the radio ... most likely because Franco and the film's screenwriter had no idea what to make Sal say. The film is most disappointing and after seeing this -- Franco's second directed film -- I hope he gives up his dreams of directing as he is much better (at times) in front of the camera. A film with Mineo's name should show us what made him special but this one doesn't. It is boringly bad ... and Plato deserved much, much, much better.
Thomas Williams
½
The (intentionally?) very consistent & lingering rawness as seen in every other Franco's production.
WS Wu
Sal Quotes
There are no approved quotes yet for this movie.
Discussion Forum
Discuss Sal on our Movie forum!