Salama fi khair (Salama Is Safe)
(1937)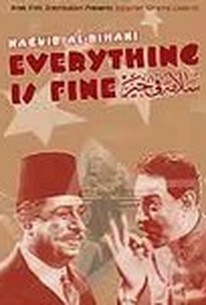 AUDIENCE SCORE
Critic Consensus: No consensus yet.
Movie Info
An everyday shop clerk (Naguib Al Rihani) trades places with a prince from a foreign land who wants to know if his seemingly loyal aides respect him -- or simply fear him. This entertaining Egyptian version of &NFi;The Prince and the Pauper&NFi_; plays up the comedy, with a wild set of improbable coincidences that brings the simple clerk into contact with the intoxicating world of power and royalty.
Critic Reviews for Salama fi khair (Salama Is Safe)
There are no critic reviews yet for Salama fi khair (Salama Is Safe). Keep checking Rotten Tomatoes for updates!
Audience Reviews for Salama fi khair (Salama Is Safe)
In "Salama is Safe(Everything is Fine)," Khalil, a store owner in Cairo, has mislaid his glasses again. Sadly, he cannot also find his office man, Salama(Naguib Al Rihani, who also wrote), who is having his shoes shined outside, before again unsuccessfully trying to get half a day off. What Salama does get to do is deliver the store's receipts of 4,118 pounds to the bank. But along the way, he sees a way to get revenge against his quarrelsome neighbor by testifying against him in court. By the time that is resolved, the bank is closed and Khalil has closed the store to celebrate the birth of his first child, leaving Salama up a creek. Meanwhile, in the desert... "Salama is Safe(Everything is Fine)" is an amusing farce that shows the wear and tear typical of other early talkies, including a great setup of a potential bicycle chase before just as quickly cutting away. Also dating the movie is a critique of Egyptian society and class divisions of the time which as Prince Kandahar(Hussein Riad) puts it so eloquently is all about appearances before placing his bet. So, yes, it does work for his thesis that the lead character is a buffoon but not so much for the movie in general wherein the background action is continuously busy if not entirely relevant to the main story.
Salama fi khair (Salama Is Safe) Quotes
There are no approved quotes yet for this movie.