Salesman
(1968)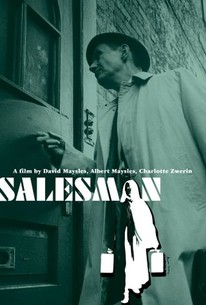 Salesman Videos
Salesman Photos
Movie Info
This famous documentary is said to have single-handedly brought back a resurgence of documentary filmmaking in the 1960-1970s. It follows the mishaps of door-to-door Bible salesmen.
Rating:
G
Genre:
, ,
Directed By:
In Theaters:
On DVD:
Runtime:
Studio:
Criterion Collection
Cast
Critic Reviews for Salesman
All Critics (18) | Top Critics (3) | Fresh (18) | Rotten (0) | DVD (5)
The filmmakers, despite their rueful gaze, inspire empathy for all parties to this miserable commerce.
This 1968 study of door-to-door Bible salesmen in the Boston area and in the south is a superb and truthful look at an American institution -- and at the troubling relationship between fact and fiction, materialism and spiritual values.
Chicago Reader
Top Critic
It's such a fine, pure picture of a small section of American life that I can't imagine its ever seeming irrelevant, either as a social document or as one of the best examples of what's called cinema vérité or direct cinema.

New York Times
Top Critic
An uncompromising documentary which simply lays its subject bare and dares us not be moved by the raw humanity on display.
Salesman stands as the movie where [the Maysles] really found their voice as leading American proponents of the "direct cinema" aesthetic.
Audience Reviews for Salesman
½
A classic and important documentary directed by the genius Maysles Brothers. The cinema verite classic has tons of influential filmmaking techniques, that make it one of the most important documentary films of all time. The film is very sad in it's portrayal of struggling salesmen who try to sell expensive bibles to poor families and get rejected. The film makes you feel awful for both the failing salesmen and the poor families they visit.
Joshua Gonsalves
"Salesman" is a very effective cinema verite documentary from the Maysles Brothers about bible salesmen operating in Massachusetts and Florida on the surface. Unlike Jehovah's Witnesses, they are not selling religion. The targets are already believers who gave their names at their local churches. What they are really selling is status with the $50.00 bibles that can be bought with cash, C.O.D or, my personal favorite, the Catholic Honor Plan. All dollar amounts are from 1967, so this is an especially pretty penny. If you are a believer, then it is the words that count, not the packaging, unless you are trying to convince somebody else that you are wealthy enough to afford one which most of the people the salesmen talk to cannot. For these salesmen, victory comes in small bunches in this frustrating profession with its long hours on the job and nights in cheap motels. Some succeed like those that make $35,000 to $50,000 but they are rare, even as the bosses urge them that success is within their sights. And Paul Brennan, the center of attention, wonders if maybe he should have taken his family's advice to "join the force and get a pension" during one particularly bad week.
It is not long into the film that we begin to realize how amoral its subjects are, none more so than the company that employs them. The salesmen are promised riches limited only by how hard they work to obtain them, despite the fact they only sell to lower and lower-middle class families and the era of the door-to-door salesman is rapidly coming to an end. Because the company peddles nothing more and nothing less than bibles, it publicly acts the part of the concerned social servant, spreading the word of god for a measly US $49.99 payable in up to six installments. Behind closed door meetings, however, the message could not be any more direct: no one's job is safe unless profits pick up considerably. We do not get to know our four subjects very well, though we spend the most time with Paul Brennan (the badger), a world weary and possibly depressed figure whose considerable experience as a salesman has sapped his confidence and left him empty. As the film progresses he becomes more and more desperate, culminating in a public humiliation at the hands of one of his friends that is incredibly painful to watch. That we can empathize so deeply with a character whom we have seen, among other things, pester an old woman into ponying up the cash for a bible she doesn't need, using a fake irish brogue and lying about his family history to secure sales, is a testament to the film. Unlike the other characters, most of whom are more traditionally likable (save for the group's supervisor, a nasty piece of work who was clearly a high school bully and now found a way to make money off his talent for intimidating people into doing what he wants), we get the feeling Paul never had a choice, never gave himself one. He is lost and doesn't know it, and his anxiety and despair increase by the minute. Seeing his coworkers mock him, his low sales figures and his tired eyes it is clear his days as a salesman are numbered. I would not be friends with any of the film's subjects (and I'd beat the crap out of at least one of them on general principle) but the film allows us to view their humanity and glimpse into a bygone era without becoming a nostalgic apologia. Far from it. By remaining detached and simply observing, the film is far more spiritual than anything relating to the company it depicts. It loves its sinners, while hating their sin.
Discussion Forum
Discuss Salesman on our Movie forum!
News & Features