Samuel Bleak
(2013)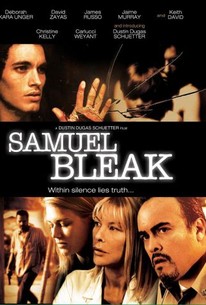 AUDIENCE SCORE
Critic Consensus: No consensus yet.
Movie Info
The mystery surrounding a mute vagabond found living in the woods of a small town threatens to upset the delicate social balance of the close-knit community in this drama featuring Keith David and James Russo. Samuel Bleak was just eight-year-old when he ran away into the woods. No one ever knew why he fled from his family, and in the years that followed he was presumed dead. Then, 20-years later, Police Chief Ruben Ramirez discovers Samuel living a life of solitude in a dilapidated shanty. He won't speak, and his only possession is an old typewriter. Subsequently placed in a small mental institution, Samuel begins the long process of integrating himself back into society. But while Chief Ramirez's wife does her best to care for the taciturn young patient, his patience is tested by the constant flood of tests and questions, and the desires of a lonely female patient with an intensely jealous admirer. In time the truth about Samuel's tragic past slowly comes to light, and when it does this small town may never be the same again.
Critic Reviews for Samuel Bleak
There are no critic reviews yet for Samuel Bleak. Keep checking Rotten Tomatoes for updates!
Audience Reviews for Samuel Bleak
An independent, low budget film, Samuel Bleak is the story of a disheveled man, whose tragic past reveals a sordid tale of abuse and neglect, set against a charming, if not creepy, small southern town. It's surprisingly well acted, and has a number of flourishes to it that make the potential all the more real. The problem, however, is that Samuel Bleak becomes too bogged down in itself, and unpolished product with too many side trails. What I appreciated most about Samuel Bleak was the acting. For such a low-budget film, the actors assembled all do a serviceable job, with David Zayas having the strongest performance. For his part, Dustin Schuetter had an uneven part, with his lack of real acting experience and depth becoming increasingly evident as the story focused more on him. The film's direction was strongest in its tone and pace. Schuetter did a fair job of giving the film a very methodical pace and atmospheric feel, with the scenes all feeling weighted. The world created feels very meditative, and surprisingly well realized. The problem, however, was Samuel Bleak was unfocused. The initial premise is intriguing, and the third act offered a genuinely surprising twist, but the film felt compelled to introduce too many subplots. None of these subplots ever panned out, and felt clunky. Schuetter also resorted to a number of plot contrivances, such as an absurdly forced romance, that undermined the film and made it feel unpolished. Had a couple of screenplay re-writes taken place, Samuel Bleak might have been a stronger product. It's these clichés and contrivances that make the story and production sometimes feel amateurish. The film still manages to keep some dramatic heft alive with its good performance and earnest story-telling, but the limitations of its young director are felt throughout. An interesting, yet not entirely successful, indie film. 3/5 Stars
Jeffrey Meyers
Super Reviewer
Samuel Bleak Quotes
There are no approved quotes yet for this movie.