Samurai Jack - The Premiere Movie
(2001)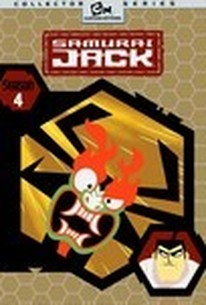 AUDIENCE SCORE
Critic Consensus: No consensus yet.
Movie Info
The graphically inventive feature that introduced the Cartoon Network series owes as much to the cartoons of UPA and Chuck Jones as it does to anime. The title character is a prince whose family has fought the evil demon Aku for control of their fanciful Asian kingdom for ages. During an intense battle, Jack is hurled into a future city ruled by Aku and his henchmen-robots. After aiding some talking dogs, Jack vows to continue his struggle against Aku and return to own time. The angular, minimal visuals are effective and eclectic: Aku's face is modeled on Sri Lankan demon masks, and the characters move in ways that fit their stylized designs. Unfortunately, the writing falls short of the visuals--the talking dogs would feel more at home in a "Ren and Stimpy" cartoon than in this imaginative adventure. Unrated. Suitable for ages 8 and older: cartoon violence. --Charles Solomon
Rating:
NR
Genre:
, , ,
Directed By:
In Theaters:
On DVD:
Runtime:
Critic Reviews for Samurai Jack - The Premiere Movie
There are no critic reviews yet for Samurai Jack - The Premiere Movie. Keep checking Rotten Tomatoes for updates!
Audience Reviews for Samurai Jack - The Premiere Movie
Samurai Jack is one of the most compelling, original, and artistically adventurous shows ever made. Tartakovsky evokes Tarantino in his ability to draw from multiple works in pop culture (samurai films, film noir, spaghetti westerns, graphic novels, etc) and fuse it with his own imagination and craft to create a show that can pour out episodes that look and feel different (but not jarringly so). Beautiful art direction and fight choreography is matched by a spare, introspective tone, right down to the novelistic pacing of an episode and lack of dialogue. This is not a show for those who revel in superfluous dialogue ( and the dialogue that is there is often funny and always entertaining). Tartakovsky understands the benefits of silences, of letting images or scenes speak for themselves. He'll then augment certain sounds in an episode (like in the masterwork, "3 blind Archers") making Samurai Jack an aural as well as visual treat. More than any other show, Samurai Jack opened me up to the cinematic potential of television. This show moves from funny, to dark, to epic and tragic, then back again without missing a beat. Mandatory episodes: 3 Blind Archers, Tale of X9, Seasons of Death, Jack and the assassins.
Marc Rivers
A pure-hearted (if naive) samurai (Phil LaMarr) travels the world in order to attain the necessary skills to defeat an evil wizard (Mako Iwamatsu) who conquered his home village. This wizard flings the samurai into a distant future where he must find a way to survive among a society corrupted by the wizard's centuries of dominance. This "movie" packages the first three episodes of the Samurai Jack narrative and it's a handy primer to a very unique series. The deceptively simple animation elegantly merges the atmosphere of Akira Kurosawa with the deliberate pacing of Sergio Leone and the explosive thrills of cyberpunk anime. Samurai Jack is often cited as the highlight of Genndy Tartakovsky's career as an animation director and it's very difficult to disagree.
Ryan Valentine
This is the premier to one of my all time favorite TV shows. Not only is it good as a movie on it's own, it's a great start to the amazing TV series created by Genndy Tartakovsky creator of shows like Dexter's Lab, and Sym-Bionic Titan.
Dammy Goldstein
Samurai Jack - The Premiere Movie Quotes
There are no approved quotes yet for this movie.
Discussion Forum
Discuss Samurai Jack - The Premiere Movie on our Movie forum!