Samurai purinsesu: Gedô-hime (Samurai Princess)
(2009)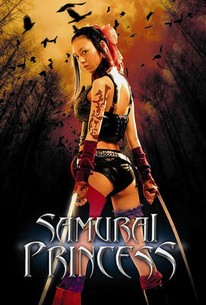 AUDIENCE SCORE
Critic Consensus: No consensus yet.
Movie Info
A beautiful woman is actually an instrument of violent revenge in this blood-spattered action story from Japan. In ancient Japan, people live side-by-side with mechanical human replicas, created by rogue inventors, which have suddenly and dangerously gone mad, leaving a remarkable trail of carnage in their wake. Desperate to avenge the killings and restore order, one of the inventors creates an especially powerful robot from the remains of a beautiful princess, who was murdered along with her friends by one of the androids. The mechanically enhanced princess (Aino Kishi) is equipped with eleven deadly weapons, and she's sent out to do battle alongside a human warrior who has a musical instrument so loud it can be used to destroy his enemies. Samurai Purinsesu: Gedo-hime (aka Samurai Princess) was the first theatrical feature for director and screenwriter Kengo Kaji; the cast includes two leading stars of the Japanese adult video industry, Aino Kishi and Mihiro Taniguchi. The film received its North American premiere at the 2009 New York Asian Film Festival. ~ Mark Deming, Rovi
Critic Reviews for Samurai purinsesu: Gedô-hime (Samurai Princess)
There are no critic reviews yet for Samurai purinsesu: Gedô-hime (Samurai Princess). Keep checking Rotten Tomatoes for updates!
Audience Reviews for Samurai purinsesu: Gedô-hime (Samurai Princess)
I'm unashamedly fond of this genre of over-the-top, ultra-gory, and often hilarious Japanese movies. When done right, they're endlessly entertaining. Samurai Princess is not one of the finer examples that I've seen. The story is a revenge tale about a girl who becomes a Mecha (super-powered humans modified with the body parts and souls of the dead). She's searching for a group of men and two other Mechas who are responsible for the assault and dismemberment of a group of her friends. The plot is not presented in such a straightforward way, though, and there's a revolving door of random characters that pop up spout some back-story, get in a fight or two, and then die or disappear. The action scenes are weak, the attempts at humor come off as just weird, and not much of anything really makes sense. Samurai Princess is definitely a low-budget affair, with most of the money seemingly going renting the various warehouses it was filmed in. The only real entertainment to be found is from wondering what inexplicable thing is going to happen next. Watch if for that, or don't bother with it, at all. 9/10 on the WTF scale, 4/10 as a movie. And please don't ask what the title has to do with the actual movie, because I've yet to figure that out.
A woman takes on the souls of eleven raped girls and becomes a cyborg to avenge them. Played in a magical, mythical forest, the setting raises some potentially interesting fantasy ideas, but they're trampled over in a rush to get to the crazy (and badly done) gore scenes. The version I saw was dubbed, which made it even worse. Formulaic splatterpunk with low ambitions.
Plot: Samurai Princess takes place sometime, somewhere in an alternate universe version of feudal Japan, where people live together with highly developed mechanical dolls. However, excessively developed mechanical dolls start causing harm to the human society, leading to ghastly bloodshed. A mad scientist creates a female ninja "mecha" infused with the souls of eleven of her fallen sisters and she uses their combined power to take down those responsible for their deaths. If you enjoyed other mechagore films like Machine Girl and Tokyo Gore Police then odds are you'll like this one too since it comes from the same writer as TGP and features the same gonzo gore and bizarre weaponry in Machine Girl. (i.e- Chainsaw leg, scissor foot and even breast grenades.) Once again this one is flimsy on plot but who really watches these for a intriguing storyline anyway.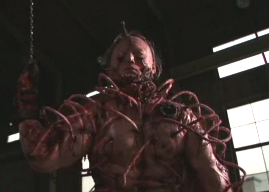 A.D. Villarreal
Super Reviewer
Samurai purinsesu: Gedô-hime (Samurai Princess) Quotes
There are no approved quotes yet for this movie.
Discussion Forum
Discuss Samurai purinsesu: Gedô-hime (Samurai Princess) on our Movie forum!