Sakigake!! Otokojuku (Be a Man! Samurai School)
(2008)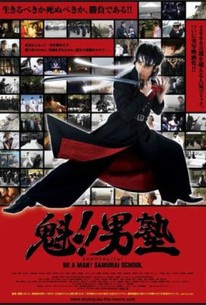 AUDIENCE SCORE
Critic Consensus: No consensus yet.
Sakigake!! Otokojuku (Be a Man! Samurai School) Photos
Movie Info
A group of aspiring samurais learn that true honor doesn't come without great suffering - not to mention some good old fashioned humiliation - in actor-turned-director Tak Sakaguchi's adaptation of the Akira Miyashita's popular manga. Spineless Hidemaro isn't much of a man, so in order to gain some intestinal fortitude he enrolls in Otoko-juku. At Otoko-juku, students train to be samurais the old fashioned way - through sheer endurance. It certainly isn't a walk in the park, and precious few freshmen actually make the cut. Others, like Momo (Sakaguchi), seem to possess the strength and stamina of 10 men. Later, just as Hidemaro begins to get the hang of life at Otoko-juku, a ruthless former student returns to campus determined to overthrow the faculty, and impose his own brutal will on the current crop of pupils. With their backs against the wall, Hidemaro, his classmates, and their teachers prepare to take back the campus by force. ~ Jason Buchanan, Rovi
Critic Reviews for Sakigake!! Otokojuku (Be a Man! Samurai School)
There are no critic reviews yet for Sakigake!! Otokojuku (Be a Man! Samurai School). Keep checking Rotten Tomatoes for updates!
Audience Reviews for Sakigake!! Otokojuku (Be a Man! Samurai School)
½
Tak Sakaguchi takes a seat in the director's chair for Be a Man! Samurai School.
Going from minute 1 to minute 105 is quite the hike. At a high level, the story is there, but the execution of the plot details is lacking. The character buildup meanders, while the comedy isn't used as effectively as it can be. On a positive note, it's difficult to see what's coming from scene to scene thanks to the over the top antics of the story.
The action is good. Once again, this is an area with the potential for better usage; although, it's hard to argue with the 2 combatants in the final showdown.
Tak Sakaguchi shines when it comes to the action, but not so much on the acting. A lot of it is due to the writing of his character. Hideo Sakaki is a worthy adversary while the rest of the cast is outrageous and overacted.
Be a Man! Samurai School has the makings of an over the top manga, but it only reaches that level from time to time when it's all said and done.
Be A Man! Samurai School (or Sakigake!! Otokojuku as I'll call it) is a film that's high on entertainment, but low on brain power. Based on a Japanese manga of similar name, Sakigake!! Otokojuku follows four students as they enroll into Otokojuku, a school that's apparently thousands of years old and teaches boys how to be men through unorthodox methods. While I say that it focuses on four students, it really follows two of them. The first is Hidemaro Gokukouji, the heir to an infamous Yakuza clan who's extremely bratty and cowardly. And the other is Momotaro Tsurugi, a talented sword fighter who becomes a close friend of Hidemaro's. The plot mainly consists of a scrapbook of the four friends and their adventures at Otokojuku, which at times are life threatening. Finally, the story changes at an hour in introducing Omito Date, a former student of Otokojuku who is expelled for killing an instructor. He's back and wants to take over Otokojuku. I'm going to look at this movie as two things: a film and an experience. As a film, Sakigake!! Otokojuku fails at what a film needs. The plot is basically non-existent until the last half an hour and even that is rather empty. The four boys the film supposedly focuses on are given little to no character or backstory so it's hard to actually cheer or empathize with them. Ryuuji Toramaru and Momotaro Tsurugi (despite Momotaro being a main character) are give no backstory and the film makes the terrible assumption that you've read the manga and know everything there is to these characters, even though those in the United States have never seen the original manga. Genji Togashi is sort of given backstory and is a likeable character, but it's the bare mininum and while I liked the character I didn't get to know him. Hidemaro received the most backstory, yet he did little to nothing in the film other than lift a flag pole (granted the flag pole would've probably required twenty men to barely lift it and he lifted it all by himself). The effects are Spy Kids 3-D level of effects and I was almost never convinced some of the events were happening. Even the fighting isn't very good, being too over-the-top and it felt like I was watching someone play "Street Fighter" more than anything (on a side note, I could see Genji and Momotaro in Street Fighter. In fact there is a fighter game with all of the characters, save for Hidemaro.) The film is billed as a comedy but it doesn't work at that either, some of the "comedic" scenes being painful to watch. However, as an experience the film is stupid fun. It would be a great film if you feel like just mindless fun...except there's no translations other than subtitles available. So you kind of have to be paying attention. So it's sort of a pay attention but don't really care about the glaring issues. If you're fine reading subtitles and are able to take some of the stupidity, you may want to check this out. Everyone else, you'll probably want to look elsewhere. One thing I like about this film though is the ending music. If you check anything about this movie, look up "The Back Horn - Yaiba" which is the ending theme of the movie. It really makes the silliness feel epic and the epic feel more epic. (Real rating: 59%)
Catherine Sumida
Mildy humorous, but little character development. Good action sequences and I would say is more like a manga on screen rather than a movie with a decent/cohesive plot. It's all about boys who fight developing into true men. I wouldn't say I would rewatch it but any movie with faction and fart jokes should be seen at least once.
bastet 05
Sakigake!! Otokojuku (Be a Man! Samurai School) Quotes
There are no approved quotes yet for this movie.
Discussion Forum
Discuss Sakigake!! Otokojuku (Be a Man! Samurai School) on our Movie forum!