San Quentin
(1937)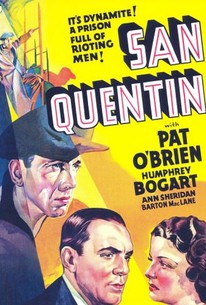 AUDIENCE SCORE
Critic Consensus: No consensus yet.
Movie Info
Much of this grim prison drama was filmed on location at the title California penitentiary. With an underlying message of prison reform, it is the story of a young nightclub singer who falls in love with her incarcerated brother's keepers, the dashing new warden who is trying to enact more humane, but still tough policies. At first, she doesn't realize that her new beau works at San Quentin and their love affair blossoms. One day, she is visiting her sibling and is caught smuggling him some cash. As a result she is sent to the warden. Seeing that he and her lover are the same and feeling like she is being disloyal to her brother, she immediately breaks up with the warden. To win her favor, the besotted warden begins giving her brother special treatment. He broadens this to the other prisoners and this creates trouble with the jealous superintendent of the guards who sees to it that the brother learns of his sister's affair with the warden. This starts a tragic change of events.
Rating:
PG
Genre:
, ,
Directed By:
Written By:
In Theaters:
On DVD:
Runtime:
Studio:
Critic Reviews for San Quentin
There are no critic reviews yet for San Quentin. Keep checking Rotten Tomatoes for updates!
Audience Reviews for San Quentin
All I said was the captain of the yard has stink weed for a family tree... The local jail determines they need a new direction, so they dismiss their captain and hire a new one. The new captain has a military background and feels prisoners can be reformed; and jail is punishment enough, without further punishment required. One day he meets a hardened inmate's sister during visitation and they immediately start dating and fall in love. When the inmate finds out, he doesn't take too kindly to the news. The inmate might not let the captain reform the prison as he hoped. "Give me the gun." "Yeah, and all the slugs with it." Lloyd Bacon, director of Frisco Kid, 42nd Street, Ever Since Eve, A Notorious Affair, The Lion and the Mouse, Moby Dick, Boy Meets Girl, and An Innocent Affair, delivers San Quentin. The storyline for this picture is fairly interesting but just okay and could have been further developed (only 70 minutes). The acting is very good and the cast includes Humphrey Bogart, Pat O'Brien, Ann Sheridan, and Marc Lawrence. "If anyone feels like getting funny I guarantee you I'll get the last laugh." I DVR'd this because it starred the legend, Humphrey Boart, and I had never seen it before. I did thoroughly enjoy this movie, and thought Bogart was excellent, the movie ends abruptly and definitely could have been better. Overall, this is worth watching once but may not make your top Bogart picture list. "Who are they going to knock off today?" Grade: C+/B- (6.25)
Kevin Robbins
A very early Humphery Bogart Film. Pat O'Brian plays the major role in this one. Pat is assigned as Yard Captain at San Quentin while still in the Army. His night before going to San Quentin he meets a female club singer who he falls in love with, trouble is he also meets her brother (Bogart) who gets arrested and shows up at San Quentin to serve time. Pat tries to straighten Bogart out to no avail. Its a good old film found in the cut out bin for 3 dollars so its worth 3 1/2 stars
Bruce Bruce
Super Reviewer
San Quentin is a decent enough prison picture with Pat O'Brien as a drill sergeant using a different approach with inmates as head prison guard. Things get tense when he starts dating the sister of a new inmate played by a young Humphrey Bogart. San Quentin is pretty standard Warner Brothers pseudo-gangster fare that fills the prison with some relatively colorful characters and despite the fact that you're locked up with a bunch of criminals, paints prison as not such a bad place to be. The acting's kind of wooden and Ann Sheridan really can't sing even if she can be foxy. And it was a nice touch making the Jesus freak homocidally insane. At just over an hour its a quick watch so if nothing else you're not wasting much time watching it. If you're a fan of anyone in the cast, you really can't go wrong...
Michael Gildea
Super Reviewer
San Quentin Quotes
There are no approved quotes yet for this movie.