San Quentin
(1937)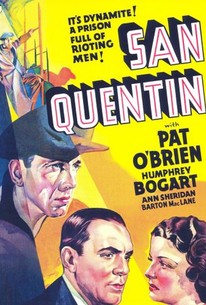 AUDIENCE SCORE
Critic Consensus: No consensus yet.
Movie Info
Much of this grim prison drama was filmed on location at the title California penitentiary. With an underlying message of prison reform, it is the story of a young nightclub singer who falls in love with her incarcerated brother's keepers, the dashing new warden who is trying to enact more humane, but still tough policies. At first, she doesn't realize that her new beau works at San Quentin and their love affair blossoms. One day, she is visiting her sibling and is caught smuggling him some cash. As a result she is sent to the warden. Seeing that he and her lover are the same and feeling like she is being disloyal to her brother, she immediately breaks up with the warden. To win her favor, the besotted warden begins giving her brother special treatment. He broadens this to the other prisoners and this creates trouble with the jealous superintendent of the guards who sees to it that the brother learns of his sister's affair with the warden. This starts a tragic change of events.
Critic Reviews for San Quentin
There are no critic reviews yet for San Quentin. Keep checking Rotten Tomatoes for updates!
Audience Reviews for San Quentin
A very early Humphery Bogart Film. Pat O'Brian plays the major role in this one. Pat is assigned as Yard Captain at San Quentin while still in the Army. His night before going to San Quentin he meets a female club singer who he falls in love with, trouble is he also meets her brother (Bogart) who gets arrested and shows up at San Quentin to serve time. Pat tries to straighten Bogart out to no avail. Its a good old film found in the cut out bin for 3 dollars so its worth 3 1/2 stars
Bruce Bruce
Super Reviewer
San Quentin is a decent enough prison picture with Pat O'Brien as a drill sergeant using a different approach with inmates as head prison guard. Things get tense when he starts dating the sister of a new inmate played by a young Humphrey Bogart. San Quentin is pretty standard Warner Brothers pseudo-gangster fare that fills the prison with some relatively colorful characters and despite the fact that you're locked up with a bunch of criminals, paints prison as not such a bad place to be. The acting's kind of wooden and Ann Sheridan really can't sing even if she can be foxy. And it was a nice touch making the Jesus freak homocidally insane. At just over an hour its a quick watch so if nothing else you're not wasting much time watching it. If you're a fan of anyone in the cast, you really can't go wrong...
Michael Gildea
Super Reviewer
"san quentin" is a cinematic reactionary propganda made upon the moral code in 30s with a fresh-complexioned humprey bogart in his youthful days before his sizzling bloom in the 40s. it's a story about a constantly captured prisoner(bogart) who discovers the saving grace from a just superior conductor(pat o'brien). of course, his creamy-dish sister seems also to get involved in a quite innocent way. "san quentin" is also one of the prison-con gendre which advocates the inequality of being an inmate, and how the system corrupts men's souls further without sparing redemption, and that notion is also utilized in james cagney's "each dawn i die"...but under the restraints of moral code, this flick tackles a more positively optimistic angle, if the supervisor is decently square, it might make a huge difference with the capably noble hand of brotherhood. it's sorta like one of those do-gooder flicks which encourages you life still reserves some prospect ultimately. bogart could be quite a versatily adaptable actor who could shift between good and evil, he always plays crooked mugs in the 30s, ready to be disposed of by the scenario, now "san quentin" is one of the few chances he could select then to prove that he could also be good, also savored by the typecasted pat o'brien who often plays the preachy good man as well as the flatly fixed ann sheridan who seems to serve nothing but a supporting romantic interest all the time in various flicks. sheridan is a safe casting choice in any star vehicle without lacklustering the leads, guaranteed by her mildly pleasant beauty. oh, she also has some sort of husky magnetic voice to sing a swinger tune. that's another plus, i suppose. the best part of "san quentin" is the action sequence of bogart breaking thru prison with his co-schemed pal, and the swiftly pace automobile heist is dynamic. apparently this theme is dated but somehow you could still manage to seek a pleasure to witness the idiocyncrasy in that censor-dominated period.
Veronique Kwak
Super Reviewer
San Quentin Quotes
There are no approved quotes yet for this movie.
Discussion Forum
Discuss San Quentin on our Movie forum!