Sand Serpents
(2009)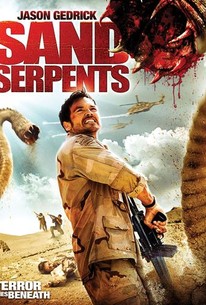 AUDIENCE SCORE
Critic Consensus: No consensus yet.
Movie Info
The dangers of fighting in Afghanistan have been well documented by the news, but this sci-fi/horror film presents a new threat for American soldiers: man-sized sand snakes. In hiding since prehistoric times, these giant creatures swarm the country's tunnels and give Lieutenant Stanley (Jason Gedrick) a new enemy to face.
Rating:
NR
Genre:
, , , ,
Directed By:
Written By:
In Theaters:
On DVD:
Runtime:
Studio:
RHI Entertainment
Critic Reviews for Sand Serpents
There are no critic reviews yet for Sand Serpents. Keep checking Rotten Tomatoes for updates!
Audience Reviews for Sand Serpents
Sand Serpents would have been twice as good if weren't for all of the unwatchable shake-y cam. Twice as good still wouldn't have been very good, but I'd have much preferred it if that were the case.
½
I'm not going to tell you it's not a watchable film, 'cause it is, but I will tell you that it's very stupid. 31/100
M. C.K.
The Sy Fy channel has become a place where creativity goes to die, and the cable network now has a reputation for animals-run-amuck movies that are varying degrees of terrible. The only thing worse than their campy, unintentionally funny movies are the ones that take themselves seriously, and unfortunately, "Sand Serpents" is one of the latter. It's a weird, unsuccessful mix of "Tremors" and "The Hurt Locker", and it features the same shoddy special effects and awful acting. These films are where one-time A list actors go to live out the twilight of their careers, and in this one that distinction goes to Jason Patric. Apparently, this is where starring in "Speed 2" gets you. The characters are all stereotypes, from the scruffy black Sergeant to the wisecracking Private who thinks all Middle Eastern people are terrorists. His quips are too dumb to be offensive. The sand worms are naturally all computer generated and embarrassingly phony. Any computer savvy kid could come up with something more realistic on his Mackintosh. There are several gaping plot holes, most notably how the platoon is somehow safe from these earth dwellers in a ramshackle hut in the middle of the desert with a dirt floor. Logic has no place in a film as second-rate as this one. There are people who find films like "Sand Serpents" hilarious, but I've never been one of them. B movies are a favorite of mine, but this junk doesn't qualify as one. This is just a lazy film that barely qualifies as a film. It's a product.
Timothy Sanders
Discussion Forum
Discuss Sand Serpents on our Movie forum!