Sands of Iwo Jima
(1950)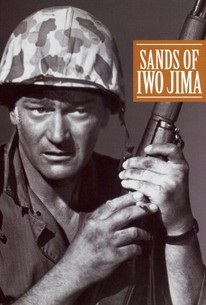 Movie Info
From director Allan Dwan, Sands of Iwo Jima is a drama set during the Second World War and follows John Stryker (John Wayne), a relentlessly tough Marine sergeant as he trains a squad of naïve, rebellious recruits at a New Zealand military station in 1943. Recently left by his wife, Stryker has become exceedingly bitter and tough, leading his contemporaries to question his behavior and his men to dislike him for his harsh training methods. The wisdom of Stryker's ways, however, is demonstrated when they fight in the legendary battle of Iwo Jima. Using footage of real WWII battles, the Sands of Iwo Jima features John Wayne's first Academy Award-nominated performance, though Broderick Crawford ultimately won the 1950 Best Actor prize. ~ Matthew Tobey, Rovi
Critic Reviews for Sands of Iwo Jima
Audience Reviews for Sands of Iwo Jima
Probably the most influential WW2 movie ever made, you can see ever other movie proceeding it to have similar scenes and characters. Maybe it's because this uses stock footage from the real war, was made so close to the war and has The Duke playing the lead; this is one of the best war movies ever made. No, it's not as well made as Apocalypse Now! or as realistic as Platoon, but this has it where it counts and was made a full 30+ years before either was made. John Stryker is one of the most iconic soldiers in any movie, he represents the true tortured soul and sympathetic tough guy. When a movie like this can still be powerful today, you know they did something right.
Conner Rainwater
Super Reviewer
im not usually big on john wayne, but this is one of his four or five performances that i really enjoyed, and as a film this one is phenomenal. some absolutely great story telling for a war fillm nearly 60 years old. although storytelling in older films is usually better than in more recent films, war films have often been an exception to that. but this one gripped me. a must watch.
½
Superb war film. The Duke was never better than as the haunted Sergeant Stryker, a man hated by his men (with a few exceptions) for his unyielding toughness, but it is by that attitude that he hopes to keep them alive in combat. Watch it and see how good John Wayne really was.
Dean McKenna
Super Reviewer
Sands of Iwo Jima Quotes
There are no approved quotes yet for this movie.