Sanjuro (Tsubaki Sanjûrô)
(1963)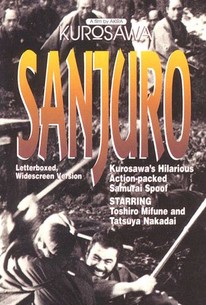 AUDIENCE SCORE
Critic Consensus: Technically impressive and superbly acted, Sanjuro is a funny, action-packed samurai adventure featuring outstanding cinematography and a charismatic performance from Toshiro Mifune.
Movie Info
Toshiro Mifune stars here as a wandering samurai warrior who becomes the warrior-mentor for a bunch of budding samurai who are heading toward a showdown with their corrupt clan fathers. Sanjuro was directed by Akira Kurosawa.
Critic Reviews for Sanjuro (Tsubaki Sanjûrô)
Audience Reviews for Sanjuro (Tsubaki Sanjûrô)
A successful follow-up to director Akira Kurosawa's smashing "Yojimbo", where he continues to chronicle the life events of a mysterious samurai (Toshiro Mifune) and how he feels tasked to help some members of a small village take back their town from a corrupt chamberlain and his men. While it does not pack the dramatic punch "Yojimbo" did, and several of the plot points are relatively familiar given the direction the first film went in, this movie still remains fascinating to watch given the nature of the lead character. He is still unpredictable even when certain parts of the story feel somewhat repetitive, and Mifune's rock-solid performance is the real driving force behind this movie in particular. A good movie worth viewing, but in my opinion not very close to the classic status equated with that of "Yojimbo".
Dan Schultz
Super Reviewer
Toshiro Mifune's wayward samurai returns to help out in the kidnapping of a statesman by a corrupt official intent on discrediting him to cover up his own crimes. Sanjuro was made hot on the heels of Yojimbo, and is obvious proof that a studio trying to cash in on the commercial success of a film by throwing together a rehash is far from a new phenomenon. The fact is, Sanjuro just copies the formula of the original with a bit more crowd pleasing action and humour and a bit less intelligence and characterisation. But let's face it, the combination of Akira Kurosawa and Toshiro Mifune was never going to disappoint no matter what the reasons for their collaboration and Sanjuro is yet another beautifully crafted and hugely entertaining samurai movie. It's mildly comic approach does not capture the dramatic gravitas of the original film but Kurosawa's eye is still perfection and Mifune's performance still a powerhouse of charisma. In fact despite the commercialism of the film, the final scene is still pure Kurosawa through and through. Cash in it may have been, but it's still head and shoulders above the vast majority of the herd.
Akira Kurosawa's sequel (of sorts) to Yojimbo finds the hero (Toshiro Mifune) once again coming to the aid of hapless ineffectuals. This time it's a clan of samurai who suspect there are traitors in their rank. The nine men on the side of justice are bungling greenhorns seemingly incapable of doing anything themselves. Sanjuro almost has to carry them through the movie like infants in his arms as they mess up one mission after the other. In fact, Sanjuro is basically a superman, and maybe a metaphor for God, especially when, in one scene they doubt Sanjuro's loyalty and it winds up being a costly mistake for them. But on a purely visceral level, the movie, like most Kurosawa films, is highly entertaining. The lady of the house, who doesn't care for violence and rough language is a comedic highlight, in contrast to Sanjuro's exasperation. Kurosawa is great at making well-rounded, entertaining movies with great characters and engaging storylines. Toshiro Mifune is the John Wayne of Samurai movies, only more a method actor than the Duke (he doesn't pull his punches or his sword slices). Check out the bonus documentary on the criterion collection disc. It's well worth it.
Devon Bott
Super Reviewer
Sanjuro (Tsubaki Sanjûrô) Quotes
| | |
| --- | --- |
| Sanjuro Tsubaki: | You tired of being stupid yet? |
| | |
| --- | --- |
| Sanjuro Tsubaki: | The best sword is kept in its sheath. |
| Sanjuro Tsubaki: | You cut well. But good swords are kept in their sheaths. |