Zoku Sugata Sanshiro (Sanshiro Sugata 2) (Judo Saga II) (Judo Story II)
(1945)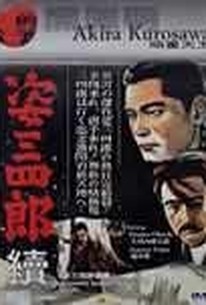 AUDIENCE SCORE
Critic Consensus: No consensus yet.
Movie Info
This 1945 Japanese film by renowned director Akira Kurosawa, is a sequel to its better known predecessor, Sanshiro Sugata (1943). Both concern the relationship between Shogoro Yano (Denjiro Okochi), the founder of the martial arts discipline of Judo, and Sanshiro Sugata (Susumu Fujita), one of his principal students. Like many such relationships, this one is shown to be a blend of the spiritual and the intimately personal. As the film was made during World War II, it not surprisingly contains vignettes in which Europeans are made to appear extraordinarily piggish and vulgar. This film was re-released in a slightly shorter, re-edited and subtitled version in 1981 and was first seen in the U.S. at the Film Forum in New York City in 1989. It is of interest both as a tightly-crafted martial arts master-and-student film, and as an early example of Kurosawa's mature style. ~ Clarke Fountain, Rovi
Rating:
NR
Genre:
, , ,
Directed By:
In Theaters:
Runtime:
Studio:
Criterion Collection
Critic Reviews for Zoku Sugata Sanshiro (Sanshiro Sugata 2) (Judo Saga II) (Judo Story II)
All Critics (1) | Fresh (1) | Rotten (0)
Sanshiro takes down an Ugly American boxer (this was war-time Japan, after all) and a final silhouetted fight in the snow borders on abstract cinema.
Audience Reviews for Zoku Sugata Sanshiro (Sanshiro Sugata 2) (Judo Saga II) (Judo Story II)
Akira Kurosawa's third film, filmed because the studio wanted a sequel to the wildly successful original film. Kurosawa was known for not wanting to revisit old dreams when he could create new ones and the only other exception to this circumstance was the Sanshiro Sugata films and "Yojimbo"/"Sanjuro". The film has a few worthwhile moments but overall it was probably his least enjoyable film that I have viewed of his filmography. I can't say it was a terrible film overall but one with quite a bit to be desired, especially the talent involved. I can understand however, as it was not Kurosawa's decision to make a sequel but the studios in the end. While I wouldn't give it an outstanding review, I would still recommend every Kurosawa fan to give it a watch.
Chris Browning
Super Reviewer
½
Added nothing at all to the first film other than more action and a melodramatic subplot regarding boxing vesus judo. Not well executed, does not have an appropriate pace and was rushed to get to the formulaic fight scene at the end. Not a great excuse, but consider that Kurosawa was still working under the censorship board. Overall, a film that presents scenarios that could have been intriguing to watch but they are not fully explored in order for us to enjoy them. Instead a typical film made to entertain. A film I can only appreciate more than the rest of the Hollywood action junk out there because Kurosawa's name is associated with it.
"Sanshiro Sugata, Part Two" opens with an American sailor(Osman Yusef) beating up on Daisuburo(Ko Ishida), a poor defenseless rickshaw driver in Yokohoma in 1887. Coming to his rescue with his own theme song but not wearing a cape is Sanshiro Sugata(Susumu Fujita). That makes Daisuburo want to take judo lessons but not before Sanshiro is invited to fight William Lister(Roy James), a famous American boxer, but declines. He does however stick around to see him fight Kihei Sekine(Kazu Hikari) and win decisively. That's nothing compared to the challenge Yano's(Denjiro Okochi) dojo will soon be facing while Sayo(Yukiko Todoroki) still pines for Sanshiro. "Sanshiro Sugata, Part Two" suffers from some of the same problems that sequels/continuations will face in years to come, namely creating a bigger challenge out of thin air for the hero while not moving his story forward at all. That having been said, there is an interesting scene centered around Sanshiro being puzzled over why he is hated because he is so good at judo. Like all athletes, he has to realize he will not be loved by all. The exception to that rule is when he is representing his country taking on outsiders, while another character disparages young people for wearing western clothing.
Zoku Sugata Sanshiro (Sanshiro Sugata 2) (Judo Saga II) (Judo Story II) Quotes
There are no approved quotes yet for this movie.