Sugata Sanshiro (Judo Saga) (Judo Story)
(1943)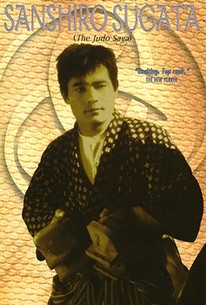 AUDIENCE SCORE
Critic Consensus: No consensus yet.
Movie Info
This first effort by Japanese director Akira Kurosawa was originally released as Sanshiro Sugata . The film, made under reasonably smooth conditions despite the war, is based on a best-selling novel about the creation of Judo. Most of the film explores the relationship between the creator of this form of self-defense and his faithful protege. In addition to establishing the reputation of Kurosawa, the film made a popular star of Susumu Fujita. Sanshiro Sugata was remade by Shigeo Tanaka in 1955 and again by Seiichuro Uchikawa ten years later. ~ Hal Erickson, Rovi
Critic Reviews for Sugata Sanshiro (Judo Saga) (Judo Story)
Audience Reviews for Sugata Sanshiro (Judo Saga) (Judo Story)
thank the criterion collection for putting together a coherent translation of this film. such a great precedent for other fight films to come. this film hits an emotional chord too many other martial arts films fail to hit, and the sequences only improve as they go on. the climax is fantastic, and the heart behind sugata's struggle reveals a depth to the plot seldom seen in this genre. a wonderful film.
"Sanshiro Sugata" is the first film from the legendary Akira Kurosawa who went on to make some of the finest films the world has ever witnessed. While this is not one of the top-tier Kurosawa films, it is saying something when a Director's lower films are better than a majority of other films out. The story is simple, a man who pursues a path in Judo grows as a person while doing so and also discovers humanity as well. The film portrays Sugata's progression as a martial artist as well as a man and finds purpose in doing so. The film while simple is still filled with great fight sequences, occasional comedy and some striking cinematography and shows the beginnings of the legendary Kurosawa and foreshadows what he would go on to achieve.
Chris Browning
Super Reviewer
½
In "Sanshiro Sugata," a group of jujitsu instructors get together to teach Yano(Denjiro Okochi) a lesson for having the gall to open a judo school of his own. Things do not go as planned as he takes on all comers with his back to a canal while hardly breaking a sweat. But it is not so easy with Sanshiro Sugata(Susumu Fujita), his star pupil, who keeps getting into fights outside of school. As Yano condemns him for his lack of humanity and contemplates kicking him out, Sanshiro dives into a pond in a fit of pique. With his first film "Sanshiro Sugata," writer-director Akira Kurosawa already shows a great deal of promise in this compelling morality tale. As he proves, it is easy for somebody to be strong like Sanshiro but that does not mean he will make a great athlete.(Plus, I remember hearing somewhere that judo turns the opponent's strength back against himself.) That's not all as he also has to learn how to be humble and respect others. And I suppose it is also a mark of the times that the one seedy character is also the only one wearing western clothing.
Sugata Sanshiro (Judo Saga) (Judo Story) Quotes
There are no approved quotes yet for this movie.