Santa and the Ice Cream Bunny
(1972)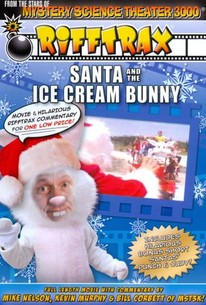 AUDIENCE SCORE
Critic Consensus: No consensus yet.
Movie Info
Santa's Ice Cream Bunny comes to the rescue in this animated children's Yuletide tale.
Rating:
G
Genre:
, , ,
Directed By:
Runtime:
Studio:
R&S Film Enterprises
Critic Reviews for Santa and the Ice Cream Bunny
All Critics (1) | Fresh (0) | Rotten (1)
Its execution is at places so determinedly bereft of even the most limited, accidental filmmaking talent that it doesn't seem right to call the resultant object an actual work of cinema.

Audience Reviews for Santa and the Ice Cream Bunny
Take my word for it...skip this strange awful Christmas movie. It is a bizarre and badly produced, with stilted acting and horrible costumes. The Santa portions and the eventual arrival of the "Ice Cream Bunny" serve as wraparounds for a poorly made version of Thumbelina...and apparently home movie footage of the producers daughter at a theme park. It is weird. No explanation is given for the Ice Cream Bunny and why he is called that. He has no ice cream. It is a terribly weird movie, and badly made. It isn't too much fun to sit through without a group.
Ken Scheck
The terrors of this film are great, and yet it's not a horror movie. It's cheap, stupid, hard to hear, and mind-melting. Most of the film is some unrelated Thumbelina movie, and the end of the film is confusing and painful. Don't try to watch this without Rifftrax.
Wes Shad
Well first off I cannot even believe that this movie exists. But I will be honest the title alone is what made me take a look see to it.. Anyways lets start with the plot, well it opens up with some kids who I assume are posing as elves in Santa's workshop. A little elf opens the door and see's reindeer but no Santa, so the kids go back to singing and we see a cut of Santa trapped in some monstrous sand. It appears Florida was to hot for his reindeer so they abandoned him. So already we are off to a great start, I don't know why Santa would be in Florida in the sand but lets just roll with it. We then have a random assortment of kids playing around with each other which is...interesting to say the least. My favorite kid is the one who jumps off of a roof with an umbrella... I can't believe the producers thought that was a good idea to include in the movie because if any kids were to see that. chances are they will imitate it! But moving on with the plot...Santa calls the kids with a song I presume, and the kids all come and ask Santa if they can help so the plot is basically kids bringing random animals to aid Santa. Its shocking to watch because the animals are practically forced to move towards the sleigh and most of the animals do not sound happy at all. About twenty minutes in the movie shifts to a play called Thumbelina and its mixed with horrible acting and odd events in this play. It really seems like this movie was a huge gimmick to advertise for this theme park that doesn't exist anymore. Pirates World is what its called, but the whole Thumbelina side part is actually longer than the Santa and Ice Cream Bunny part! It detracts from the title and is horribly misleading, and I have no idea why the bunny is called the Ice Cream Bunny because there is absolutely no Ice Cream in the movie at all. This is crap, but its the kinda crap among cult movie fans that ensures bragging rights if you get through it. Its hard to get through and very misleading, to sum it all up... It's crap but if you want to be able to say to your friends,"I sat through Santa and the Ice Cream Bunny" then this is for you.
Chad Halsman
Santa and the Ice Cream Bunny Quotes
There are no approved quotes yet for this movie.