Santa Claws
(1996)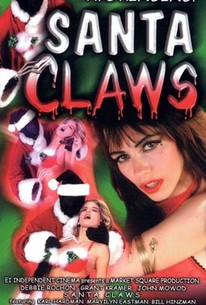 AUDIENCE SCORE
Critic Consensus: No consensus yet.
Santa Claws Videos
Santa Claws Photos
Movie Info
This interesting horror film stars Debbie Rochon as "Scream Queen" Raven Quinn, whose next-door neighbor Wayne (Grant Kramer) is an obsessively psychotic fan. Wayne prays to an altar of Raven in his living room, then begins dressing like Santa Claus and murdering her female co-stars when he feels betrayed. Despite being full of the usual scenes of naked women being stabbed and rended with garden trowels, this film has a bit more on its mind. It is really the first comment by the Scream Queen industry on itself and the possibly dangerous fans who slaver over slick magazines and films that trade on women covered in blood, many of them feigning death. It is a disturbing subgenre, but one which director John Russo (editor of Scream Queens Illustrated) knows intimately, and it is comforting to see that he understands its potential downside. Mainstream horror fans should enjoy the film too, especially with cameos from Marilyn Eastman and Karl Hardman of Night of the Living Dead (which Russo co-wrote) and a fine lead performance by Rochon. When she recites monologues defending her career choices and worrying about some of her obsessive fans, she sounds as if she speaks from experience and delivers a message that many of her real-life fans need to hear. This film, for all its flaws, just might represent a small step toward maturity for a subgenre hopelessly mired in self-denial and dangerous pandering.
Rating:
R (violence and sexual content)
Genre:
Directed By:
Written By:
In Theaters:
On DVD:
Runtime:
Studio:
Seduction Cinema
Cast
Critic Reviews for Santa Claws
All Critics (3) | Fresh (0) | Rotten (3)
Shot-on-video softcore hybridised with just enough of a psycho nutjob subplot that you can get away with filing it outside of your porno collection.


Audience Reviews for Santa Claws
½
Review by Daniel Jolly (originally published at www.FromDuskTillCon.com) Ah, Christmas, and psychopathic, murderous, obsessed movie star fans – you can hardly think of one without the other. It's the holidays, but no one is having a holly, jolly Christmas. B movie scream queen Raven Quinn (Debbie Rochon )- zoologist, scream queen, wife, and mother has just had a fight with her husband, and he is threatening to divorce her once he gets back home from an out-of-town photo shoot. Her in-laws despise her because of her body-baring film career (although they have no problem with her husband photographing naked women in his own line of work). The only person she can turn to is her ingratiatingly nice neighbor, Wayne (Grant Kramer). What she does not know is that Wayne is completely obsessed with her, maintaining a Raven shrine inside his house. With her marriage on the rocks, he thinks the time is right to make his move. Now, Wayne has some problems; just ask his mother and uncle – oh, wait, you can't ask them because he shot them to death as a young teenager. He wants Raven all to himself, and this raging desire compels him to murder everyone who might get in his way. By the time the end game rolls around, Wayne has transformed himself into the dastardly Santa Claws, and he decides who has been naughty and who has been nice. Obviously, this is a low-budget B-movie production, written and directed by Night of the Living Dead scribe, John Russo. While some effort went into making the film, there's no mistaking its meager origins. The acting is quite bad at times, although I think Debbie Rochon puts in a better than average performance as Raven; the sets are sadly unimpressive, especially the furnishings in Debbie's home (she and her husband could certainly have afforded better furniture); and the accompanying music is often times just a step above elevator muzak, although I do give the filmmakers credit for attempting to insert relevant songs to accompany the story as it progresses – the intent was there, but apparently the money was not. Grant Kramer gives an inconsistent performance as the serial killer Wayne, and this limits the effectiveness of this movie to some degree. It can be rather painful to watch him sitting before his shrine confessing his love for Raven, but he comes across pretty well in those scenes requiring him to be psychotically angry and frustrated. I must also mention the murder weapon of choice here is a little plastic set of claws that wouldn't scare a child in the middle of a graveyard on Halloween night. This little toy is quite deadly in Wayne's hands, though. What I found really funny was the appearance of the murder victims after the fact; someone basically just took fake blood and daubed a few spots here and there on the bodies. Certainly, there are problems with this movie. I for one am still confused about one particular sequence wherein several scenes seemed to be presented in the wrong order. I have to admit, though, that I really did enjoy watching Santa Claws. I would have enjoyed it even more if, instead of having to watch the shadow of the claws rise and fall against the wall, I had been allowed to actually witness the brutal murders as they took place – there is really no blood and gore to speak of here and horror fans looking for a bit of grue may be greatly let down. However, if accepted for what it is (and not much more), Santa Claws could make for an enjoyable time as part of a micro-budget entry in a holiday horror movie marathon. For more of the best no-nonsense horror and genre film reviews, visit http://www.FromDuskTillCon.com
Mr Chainsaw
Discussion Forum
Discuss Santa Claws on our Movie forum!
News & Features