Santa Fe Trail
(1940)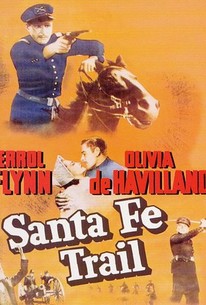 AUDIENCE SCORE
Critic Consensus: No consensus yet.
Movie Info
This western is a simplistic retelling of the John Brown legend. The events leading up to the bloody confrontation between Brown and the US Army at Harper's Ferry, Virginia, are treated in an even-handed fashion: Brown's desire to free the slaves is "right," but his methods are "wrong."
Critic Reviews for Santa Fe Trail
All Critics (4) | Fresh (3) | Rotten (1)
Racist and reactionary tripe whose closest relative is "Gone with the Wind".
Rousing John Brown story is really worth it with Reagan and Flynn.


Ozus' World Movie Reviews
Audience Reviews for Santa Fe Trail
New West Point graduates (including George Custer played by dapper Ronald Regan) are assigned duty at Ft Leavenworth, KS. Its the 1850s, so this is dangerous territory. Its the fanatical rebel Christian abolitionist John Brown (who may as well be the Isis commander), not Indians, who cause trouble for the expansion of the railroad line to New Mexico. A lot of name actors (Errol Flynn playing Jeb Stuart was another), enough comedic lines (mostly from a duo of drunks), and a romantic sub-story (with a "refined" lady from Boston who plays two men [as they do]) helped to ensure this was a major hit for the studio at the time. My issue with this film was the very nationalistic "my country, right or wrong" subtext of the film. I am sure its 1940 release date had a lot to do with that as there was a large divide in the country at the time, with many not wanting to get involved in an unpopular war. I have much ambivalence towards this film (more so than I've had about any other film in a long time), but they did show free-staters in a positive light. Also, despite its title, it had very little to do with the "Trail," since the story followed Brown to Boston and then to Virginia.
D M
His bloody raids are terrorizing Kansas. John Brown is a revolutionary leader that spreads violence and death wherever he goes. Jeb Stuart, who is friends with George Custer, is dating Kit Carson (from the infamous Carsons), finds the country and his colleagues split in terms of Brown's actions. Rumors of a Civil War are sweeping across the country and these actions may lead to what ultimately becomes the war between brothers. "I'm the one engaged to her." "Well, who ain't?" Michael Curtiz, director of Casablanca, The Adventures of Robin Hood, White Christmas, Mildred Pierce, Virginia City, Four's a Crowd, Captain Blood, and The Walking Dead, delivers Santa Fe Trail. The storyline for this picture is very intriguing and while predictable, it does contain several worthwhile subplots and interesting characters. The cast delivers swell performances and the cast includes Errol Flynn, Ronald Reagan, Alan Hale, Raymond Massey, and Olivia de Havilland. "We've been delivering bibles with triggers on them." I DVR'd this picture because it starred the legendary Errol Flynn. He was solid in this movie but it was the characters that he interacted with that made the film truly interesting. The settings were also solid as were the shootouts. This isn't Flynn's best movie but it is definitely worth watching once and potentially worth adding to your DVD collection based on the historical storyline. "I don't want any trouble here, mister." "Then you better leave us alone." Grade: B
Kevin Robbins
Semi fictional account of Bleeding Kansas and the pursuit of John Brown is skilled filmmaking but useless as any kind of historical document. Still for fans of Flynn and the Warner stock company an enjoyable enterprise. Olivia's part is negilible, as far as her films with Errol go she's seen to much better advantage in Dodge City.
Santa Fe Trail Quotes
There are no approved quotes yet for this movie.
Discussion Forum
Discuss Santa Fe Trail on our Movie forum!