Santa vs. the Snowman
(2002)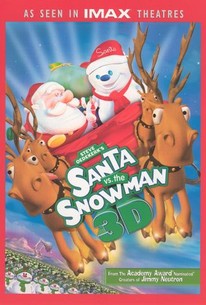 Movie Info
From the Academy Award nominated team that brought you Jimmy Neutron, comes the first-ever 3D holiday IMAX film, Santa Vs. The Snowman. Santa vs. The Snowman tells the story of a lonely Snowman who at first is swept away by the magical wonders of Santa's Village, only to ultimately wage war on Santa because he's jealous of all the attention Santa gets during Christmas time. An epic-scale polar war develops. The hilarious battle features such holiday defence mechanisms as hot chocolate squirt guns, giant Igloo Robot Walkers and even a 50-foot tall toy soldier manned by Santa himself. -- © IMAX Corporation
Critic Reviews for Santa vs. the Snowman
Audience Reviews for Santa vs. the Snowman
amazing! I can't beleive my eyes! it may be kiddish but the 3D is amazing, the story was amazing, heck, the whole movie was amazing. the best 3D film of 2002! so good I bought it in 3D!
Michael Platten
Hilarious, creepy, cute, all around enjoyable by any age willing to accept the ridiculous premise. The 3D effects are effective and look great. However, this was originally made to be on an IMAX screen with 3D, which is the best way to see it the way some scenes play out. It sadly hasn't run in theaters lately, hopefully we can see a comeback or at least grouped with IMAX showings of other Christmas movies
Jacob Gossett
½
Christmas Movie Review Mania Episode #4: Santa Vs. the Snowman 3D This is a very funny and energetic Yuletide short film. It just what you would expect from the creators of "Jimmy Neutron". The 3D aspect of the short is pretty good. It does rip off "The Nightmare Before Christmas" a little but that shouldn't offend. Check it out! It could be playing at an IMAX theater near you this season! "The Easter bunny is gonna have a hard time believing this one."
Bentley Lyles
Super Reviewer
Santa vs. the Snowman Quotes
There are no approved quotes yet for this movie.
Discussion Forum
Discuss Santa vs. the Snowman on our Movie forum!