Santiago
(2007)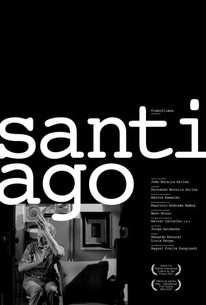 AUDIENCE SCORE
Critic Consensus: No consensus yet.
Movie Info
In the early 1990s, Brazilian director João Moreira Salles (the brother of Central Station director Walter Salles, who hailed from a well-to-do background) - commenced work on a documentary about his family's flashy butler, Santiago, who had worked in-residence for the family since João was a boy. The film began as a traditional biographical documentary portrait of Santiago, an amazing character who spent an unholy amount of off time locating, organizing, sorting and filing information about the history of various wealthy and culturally elite families around the world. Salles did not shoot this original black-and-white footage spontaneously; it consists almost exclusively of Santiago acting out pre-determined, directed scenes in his own kitchen, or by his bookshelves, showing off his collected and assembled work - rich with descriptive, detailed reminiscences by the butler. Salles's film remained unfinished for a decade and a half, and in the interim, Santiago died. 15 years later, Salles picked up the black-and-white footage and edited it together with his own narration, which - when coupled with the director's recollections - provides an extended meditation on memory, the nature of identity and the essence of documentary work per se. ~ Nathan Southern, Rovi
Cast
Critic Reviews for Santiago
There are no critic reviews yet for Santiago. Keep checking Rotten Tomatoes for updates!
Audience Reviews for Santiago
A true lesson in documentary-making that reveals as much about its fascinating character as about its director, who turns his initial effort into a work of revealing self-reflection and creates a timeless masterpiece about memory - both our individual and collective ones.
Carlos Magalhães
Super Reviewer
½
Retrospective of the director's infancy, a rich boy. And your former butler Santiago, years after. True, nothing more the true.
Lucas Martins
Super Reviewer
There's no such thing as reality. All that we see and experience end up being part of a frame. Something like "everything has three sides": your, mine and the (supposed) true one. Where stands the reality of the 'you' that has nothing to do with the 'me'? While watching Santiago, I could truly understand what Susan Sontag meant when she compared the camera to a gun. In her novel "On Photograph", she says that : "To photograph people is to violate them, by seeing them as they never see themselves, by having knowledge of them that they can never have; it turns people into objects that can be symbolically possessed. Just as a camera is a sublimation of the gun, to photograph someone is a subliminal murder - a soft murder, appropriate to a sad, frightened time." We all know that documentaries are only a part of a whole, a fraction of something called reality. What we don't tend to think about is that real characters are also a creation, a fiction when converted into a subject. Santiago was the enigmatic butler of the filmmaker's family. Speaking more than five languages, a lover of classical music and boxing, the Argentinian wrote all along his life 30,000 pages about the history of the world's aristocracy. These are facts, however, what Salles was really looking for when decided to make the documentary - what he only discovered thirteen years later - was not the real Santiago, but Santiago from his childhood memories. Like an implacable murder, Salles "violates" Santiago and turns him into an object to finds out, at the end, that the relationship employer and employee had never been broken, as this relationship is also an allegory of what happens throughout any film between the documentarist and his/her subject. Or between reality and fiction. * the black and white film was the perfect choice. a tropical light wouldn't match with Santiago's personality and sense of respect (for tradition).
Rubia Carolina
Super Reviewer
Santiago Quotes
There are no approved quotes yet for this movie.
Discussion Forum
Discuss Santiago on our Movie forum!